As Muslims around the world prepare to welcome `Eid Al-Fitr, Canadian Muslims have set different venues for celebrating the religious holiday, organizing large gatherings in Toronto and Ottawa.
`Eid Al-Fitr is one the two main Islamic religious festivals along with `Eid Al-Adha.
During `Eid days, families and friends exchange visits to express well wishes and children, wearing new clothes bought especially for `Eid, enjoy going out in parks and open fields.
📚 Read Also: What is 'Eid al-Fitr?
Here is a list of main events planned this `Eid across Toronto and Ottawa, as assembled by MuslimLink.ca.
Toronto Region: East York, North York, Downtown, Etobicoke & Scarborough
Muslim Association of Canada (MAC) Toronto Chapter
Date: May 2
Address: Enercare Centre, 100 Princes' Blvd Unit 1, Toronto, ON M6K 3C3
For details, click here
Islamic Society of North America (ISNA)
Date: May 2
Address: Jami Mosque Toronto, 56 Boustead Ave, Toronto, ON, M6R 1Y9
For details, click here
Danforth Islamic Centre
Date: May 2
Address: Dentonia Park, 80 Thyra Ave, Toronto, ON
For details, click here
Islamic Institute of Toronto (IIT)
Date: May 2
Address: Scarborough Convention Centre, 20 Torham Pl, Scarborough, ON, M1X 0B3
For details, click here
Islamic Foundation of Toronto (IFT)
Date: May 2
Address: Islamic Foundation of Toronto (IFT), 431 Nugget Ave, Scarborough, ON, M1S 4A4
For details, click here
Peel Region: Brampton, Mississauga
Muslim Neighbour Nexus
Date: May 2
Address: MNN Masjid, 3520 Odyssey Dr, Mississauga, ON L5M 0Y9
For details, click here
Muslim Neighbour Nexus
Date: May 2
Address: Churchill Meadows Community Centre, 5320 Ninth Line, Mississauga, ON
For details, click here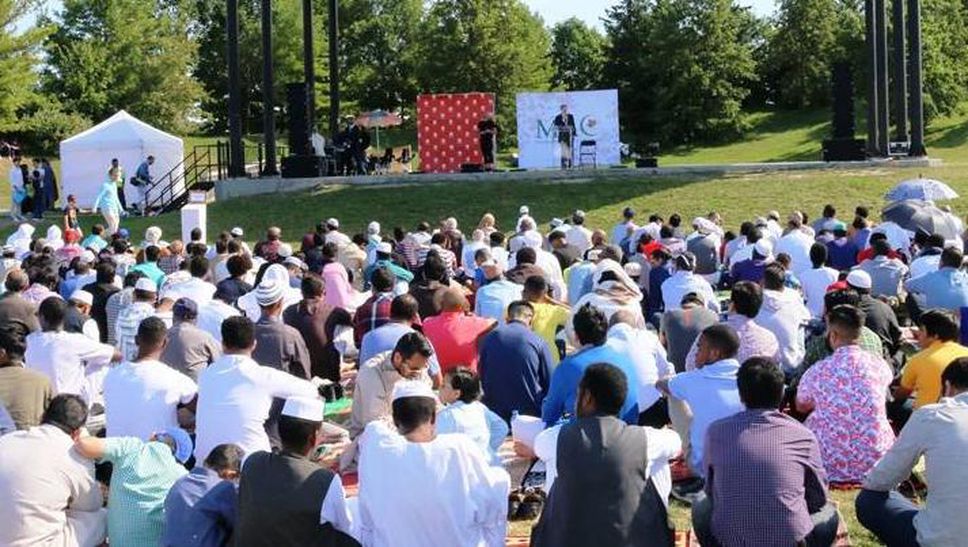 Islamic Society of North America (ISNA)
Date: May 2
Address: 2200 S Sheridan Way, Mississauga, ON L5J 2M4
For details, click here
DawaNet Charitable Services
Date: May 2
Address: Vic Johnston Community Centre, 335 Church St, Mississauga, ON L5M 1N1
For details, click here
West End Islamic Center
Date: May 1 or May 2
Address: West End Islamic Center, 4161 Sladeview Crescent #12-13, Mississauga, ON, L5L 5R3
For details, click here
Masjid Al-Farooq
Date: May 2
Address: Masjid Al-Farooq, 935 Eglinton Avenue West, Mississauga, ON, L5V 1R6
For details, click here
Islamic Community Centre of Ontario
Date: May 2
Address: ICCO Masjid, 2550 Dunwin Dr, Mississauga, ON L5L 1T1
For details, click here
Sayeda Khadija Centre
Date: May 2
Address: Sayeda Khadija Centre, 7150 Edwards Blvd, Mississauga, ON, L5S 1Z1
For details, click here
Brampton Islamic Centre
Date: May 1 or May 2
Address: 6 Lowry Drive, Brampton, ON, L7A 1C4
For details, click here
York Region: Markham, Vaughan, Richmond Hill
Islamic Centre of Markham
Date: May 1 or May 2
Address: Masjid Darul Iman, 1330 Castlemore Avenue, Markham, L6E 1A4
For details, click here
Halton Region: Milton, Oakville, Burlington
Islamic Community of Oakville
Date: May 2
Address: Glen Abbey Community Centre, 1415 Third Line, Oakville, ON L6M 3G2
For details, click here
Al Falah Islamic Centre
Date: May 2
Address: Al Falah Islamic Centre, 391 Burnhamthorpe Road East, Oakville, ON, L6H 7B4
For details, click here
Dar Foundation
Date: May 2
Address: Dar Foundation, 485 Morden Rd, Oakville, ON, L6K 3W6
For details, click here
Ottawa Locations
Kanata
Kanata Muslim Association
Address: Richcraft Recreation Complex, 4101 Innovation Drive, Kanata
For details, click here
Ottawa West
Ottawa Muslim Association
Address: 251 Northwestern Avenue, Ottawa, ON, K1Y 0M1
For details, click here
Barrhaven
South Nepean Muslim Community (SNMC)
Address: 3020 Woodroffe Avenue, Ottawa, ON, K2J 4G3
For details, click here
Ottawa South
Muslim Association of Canada (MAC) Ottawa Chapter
Address: EY Centre, 4899 Uplands Drive, Ottawa, ON, K1V 2N6
For details, click here
Ottawa East
Islamic Society of Gloucester
Address: 1627 Maxime St, Ottawa, ON, K1B 3K9
For details, click here
Orleans
Islamic Society of Cumberland
Address: Masjid Bilal, 4509 Innes Road, Orleans, ON, K4A 3J7
For details, click here
Read Original Report Here By About Islam