As Ramadan runs towards its end, the largest mosque in Bolton has invited non-Muslim neighbors to iftar meal and gathering, in a bid to give the community a taste of Ramadan,
The Zakariyya Jaam'e Masjid in partnership with the Bolton Council of Mosques (BCOM) hosted the iftar on Saturday, April 23, The Bolton News reported.
The event saw amazing turnout as guests included leader of the council, Councillor Martyn Cox, Chief Executive of the Bolton Hospital, Fiona Noden, Assistant director of the hospital, Rachel Hemingway, Yasmin Qureshi MP and Senior Coroner, Timothy Brennand.
Amazing turnout on Saturday evening at @Zakariyamasjid Iftar Event.
After a talk on the significance of #Ramadan and congregational prayers, guests had a mosque tour and finished with a brilliant #IftarDinner everybody coming together to break fast together. #islamawareness pic.twitter.com/UD24dqYg5G

— BCoM (@THEBCOM1) April 24, 2022
📚 Read Also: Last Days of Ramadan: 8 Tips to Increase Motivation
Special Gathering
Representatives from Greater Manchester Police and the local fire service also attended the iftar.
"The month of Ramadan brings families and communities together and it is a period of reflection and solace," a BCOM spokesman said.
"It allows the community to extend a hand of caring and kindness to people from different faiths and bringing them together was a real honor showing strong unity and community cohesion in Bolton.
"They are proud to have achieved what they have and will continue to serve the community collectively, with our key partners."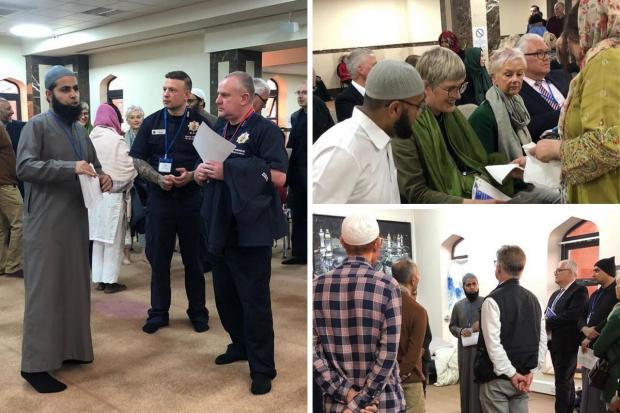 📚 Read Also:  Ramadan in Interfaith Families: Muslims Share Their Experiences
Attendants listened to a talk on the virtues of Ramadan by Maulana Talha, the imam of the mosque. He spoke about the importance of the fasting month to Muslims, hosted a tour of the mosque and invited people to the Iftar meal.
Ramadan is the holy month of fasting when Muslims avoid all food and drink between sunrise and sunset. Moreover, they're also encouraged to increase their charitable efforts and doing good deeds.
Social and interfaith gatherings for iftar meals have become a basic part of the holy month of Ramadan during which people come together.
Muslims lead similar initiatives to host iftar gatherings worldwide during the month of Ramadan.
Since the start of Ramadan, the East London Mosque has been delivering iftar meals cooked on-site to 500 people regardless of faith.
Moreover, Islamic Relief hosted a huge iftar gathering at Finsbury Park Mosque attended by MPs, government representatives, and hundreds of people.  
Read Original Report Here By About Islam