As we enter 2020, homelessness, poverty, and budget cut are three main concerning issues within the British Muslim society.
Concluding the year 2019 with a huge victory for Boris Johnson in the last year election led to the feelings of despair among many British Muslims, as reflected on the social media.
Thinking about these issues can lead many more to feel powerless as if there is no way for us to help.
Though some of these issues depend on people in power for rectification, that doesn't mean there is nothing you can do to alleviate some of the bleakness.
Circle
of Influence
Stephen Covey, the author of the ever-popular bestseller, The 7 Habits of Highly Effective People, coaches the idea of focusing on your Circle of Influence – the things within your control.
It
can be hard to feel like the troubles in society are out of our hands, but we
should redirect our focus to things within our control. By Covey's explanation, the
more you focus and invest on things within your Circle of Influence, the wider
that circle becomes.
Here are 3 ways Muslims can invest in their Circle of Influence and make a positive impact on their community.
1. Education
Educate yourself on the major issues in your society. How do things work? How can you make a difference? Whether you want to become more involved in politics or in your local community, you need to prepare yourself with the knowledge of how things work and how you can make a real difference.
2. Bridge the gap
We
are suffering from a severe divide all across the world, with each division
running scared from the other. Why are we scared? Not because we've had negative
experiences of the opposite camp, but because media and individuals bent on
fear-mongering have pushed their own personal agenda onto us.
The best and most effective way to combat this crisis is to close that gap between different groups and start interacting with each other.
Start with your local community and join events and groups within your local services. Get involved in community efforts, make friends, end stereotypes (those you have and those about you) and put an end to the fear of "others".
Further, ignite that community spirit by getting to know your close neighbors, mobilize the village in your quest to improve community relations. Once the weather improves, bring back street parties! They were always a massive success and brought communities together in a beautiful way.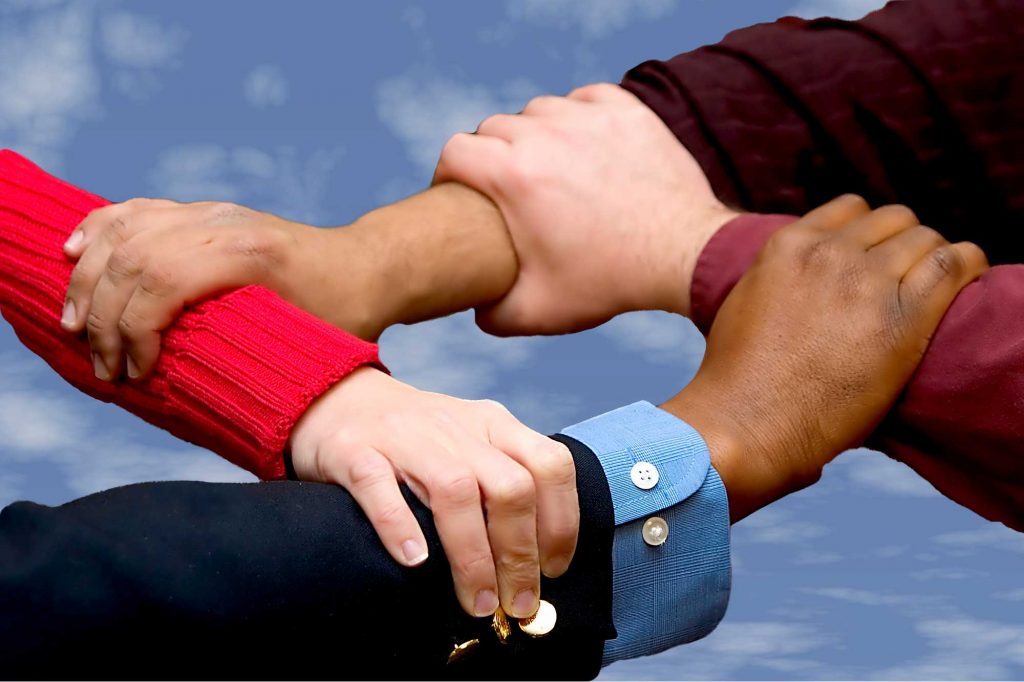 3. Assess your community's needs
The pressing requirements for communities vary from region to region. Once you have familiarized yourself with your community, identify where your neighbors need help.
Homelessness
Is the amount of people living on the street a growing concern in your area? Volunteer with a charity that helps those people get back on their feet and off the streets.
Schools
Low funding for schools is a huge struggle, and it has been for years. Help your local school by arranging fundraisers, book and stationery donations, and educational events for the children to participate in.
Under
5s
The lack of playgroup centers has created waves of concern and frustration. Combat that by recruiting the parents around you and set up your own community group for the little ones. You could even arrange events with local services, such as libraries and health centers, as a way to create links for struggling parents in your community.
Poverty
This word should never apply to a developed country, but the reality is there are thousands of children suffering due to poverty and malnourishment.
Volunteer at your local food bank or arrange a donation drive for clothes and school supplies. You could even set up a buddy system where struggling families are paired with another family they can call on when they need help.
Healthcare
It's more important than ever to arm yourself with the right knowledge to keep you and your family in the best possible health. Arrange local events in your community where people can find out about healthy eating, exercise, and natural remedies they can use at home.
Contact local health professionals and ask if they would be interested in participating and possibly giving educational talks to the community. Arranging First Aid courses is another fantastic way to equip families with the knowledge they need to keep each other safe.
Do not despair
No
matter how bleak things may look, have faith and direct your energies into your
own community. Don't
sit back waiting for political leaders to fix the world. Look around – what can
YOU fix?
Read Original Report Here By About Islam