The Cambridge Central Mosque on Mill Road opened its doors to the public during the Mill Road Winter Fair.
The mosque captivated people's attention – Muslim and non-Muslim alike – on account of its truly unique design and architecture.
Listed as Europe's first green eco-mosque, the structure shows what is possible when we step out of our comfort zone and have the funds to create something awe-inspiring.
The official inauguration on
Thursday, December 5th saw the
likes of Turkish President, Erdogan, and Cat Stevens. Visitors on the public open day on
December 7th, many of whom came over from the Mill Road Winter Fair, walked
amongst the Swiss-imported wooden structures designed to reflect the palm trees
which formed the structure of the Prophet's mosque in Madinah.
In an effort to bridge the interfaith division, the 16 'trees' in the main prayer hall reflect the imams of the four surviving traditional Sunni schools of thought and the twelve Shiite imams.
To
the front, embedded within the mihrab, are two tiles from Al-Quds (Occupied
Jerusalem) one of which is 400 years old.
Towards the rear is a piece of cloth from the Ka`bah in Makkah, under which is the door leading to the children's indoor play area and the upper balcony prayer hall.
To one side is a gallery designed to give visitors an insight into science throughout the history of Islam. In all, the structure is truly unique. Not just a prayer hall, but a community center.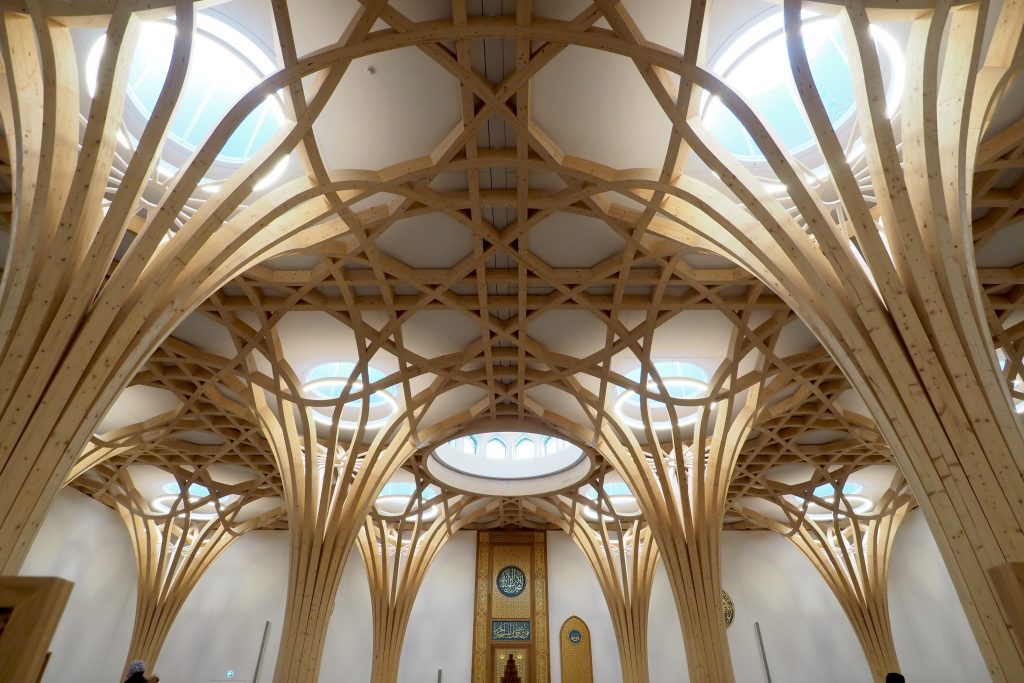 The First British Designed Mosque
Dr. Sejad Mekic, the mosque's principal imam, said, "This is the first attempt to build a mosque that should perhaps be labeled as a British mosque. It is a very difficult challenge to combine between the East and the West, Islam and Christian sacred art and architecture, using the latest modern technologies. Then on top of that, making it an eco-friendly mosque. In that sense, it is quite unique.
"We
are also trying to break some grounds and welcome everyone in this mosque,
irrespective of their backgrounds. Both Sunni and Shiite Muslims. And we would
like to welcome both genders, males and females. We would like to welcome all
of the families with their children. Everyone.
"I
would say we have had a very positive response from our neighbors. They are
truly impressed [with] how magnificent the masjid looks. It is sending out a
positive message. People have been visiting every day since we have been open – every day is an open day. It is just because
of the Winter Fair. We expect many more people to visit.
"Everyone
who visits takes something away with them, we can see it on their facial
expressions. They seem to be filled with some – we hope – light, enlightenment,
peace, serenity, and maybe a different, more
positive perspective on Islam and
Muslims."
Imam-Dr-Sejad-Mekic
Including
Women in the Mosque Committee
Shahida
Rahman, one of the two female trustees of the mosque, said, "I was born and raised in Cambridge.
I've lived here all my life and was literally born down the road from this
mosque. Because I have done a lot of work for the community, I was very happy
that they appointed me. And I think it is really important to have a community
person.
"Being a woman, this mosque is a prime example of having two women on the board of trustees. And for us to make decisions is very important. I was appointed in 2017.
"David Marks who led the design of the mosque (other projects include the London Eye, the British Airways i360, the Treetop Walkway at Kew Gardens, and many more) passed away in 2017, so he never got to see the completion of the mosque. His idea was to make a 21st-century mosque with a Cambridge connection because you can see the 'trees' – they come together. It reminds us of Kings College chapel. 
"It's
not just a place of worship, it is also a community space, and it's for Muslims
and non-Muslims alike."
Volunteers at the Mosque
One
of the volunteers on the day, Aminah Rahman, said, "I'm here to help out at the
Mill Road Winter Fair today, and I'm here to meet all these lovely people. With
all the work, the calligraphy, I think the – now completed – mosque is
absolutely amazing."
When asked about her poetry, Aminah mentioned, "I won the Young Muslim Writers Awards in 2015, and since then I've published two of my own poetry collections – one called Poems by Aminah and the other called Soul Change. More recently, I won the Cambridge News and Media Education Awards for People of the Year."
When
asked to share a few words of her poetry on the spot, Aminah shared a short two-line poem called 'Accept me please':
"I
may be small; I may be thin.
You
only ever judge me by the color of my skin."
Ibrahim
Rahman, the social media officer at the Cambridge Central Mosque (a voluntary position to his day job) said, "There are lots of incredible
environmentally-friendly
features about this mosque. We have green roofs, we have water that gets
re-harvested, which is great for wudu'
(ablution). We have these tree-like
structures which are made from sustainable timber."
Stood
in the Islamic garden designed by Emma Clark, who became a Muslim in 1990,
Ibrahim continued, "There are lots of incredible features when you enter this
sanctuary. It is a wonderful place."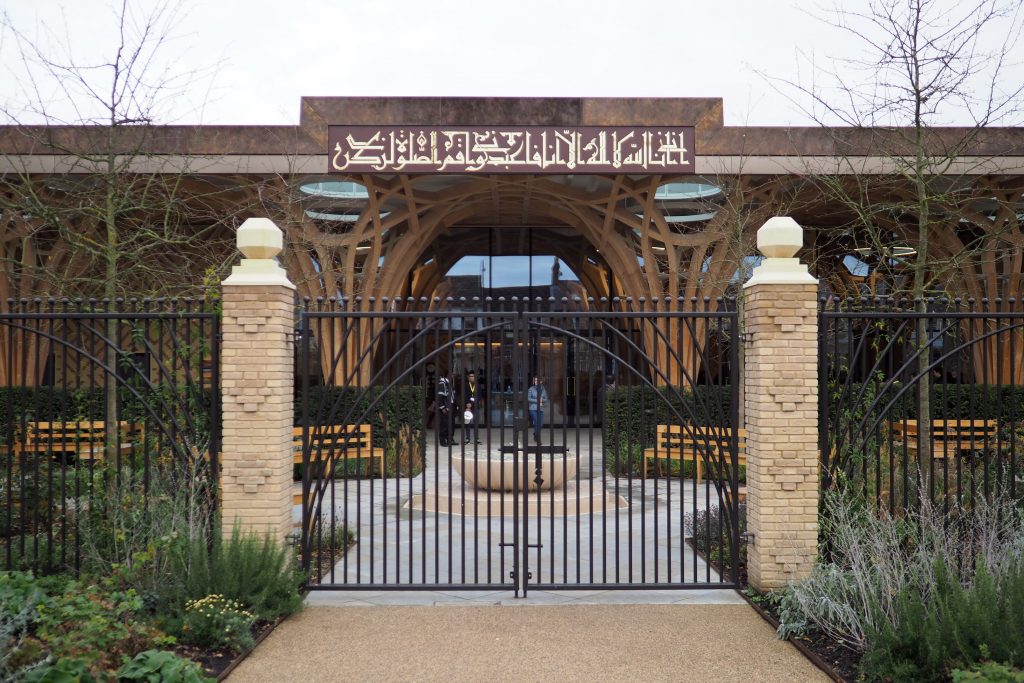 The
Local Experience
The
mosque has been open for some months now, though the final pieces were added
just recently. Speaking with Hinar and Amal, two women who originally come from
Egypt, Hinar shared some of her thoughts.
"I've
been living here for ten years. Allah has blessed us with this new mosque. We
prayed Ramadan and Tarawih earlier this year. We are really happy that we have
finally got this amazing mosque.
"I
come frequently with my family – I have two kids – as I live 20 minutes away.
Now that the mosque is completed, we can invite many people. Today is an
amazing day, ma sha' Allah.
Thousands of people have come to visit the mosque."
Reviving
Forgotten Traditions
Prophet
Muhammad once said the whole world is a mosque, meaning a person can pray (more or less) anywhere that is clean.
The
Cambridge mosque, designed by a British Jew (David Marks), incorporating both
Sunni and Shiite themes, with a garden designed by a woman, and with women sat
on the board of trustees; this project is one step closer to reflecting life at
the time of the Prophet. A time
when people came together, irrespective of their faith or gender, for the betterment of society.
While the main prayer hall allows for
both men and women to be in the same space with a small divider, we are still a
long distance away from prayers at the time of Prophet Muhammad – where men would pray at the front, women
would form rows behind them, and men who would turn up late would pray behind
the women(*). Understanding the way early Muslims lived helps us better understand
and interpret social norms.
Still,
the Cambridge mosque has set a new benchmark. It is showing us what is possible
if we move away from the function and simple rituals of faith and towards the spirit of faith. By embracing
nature, design, and creativity; by including women throughout; and by including non-Muslims, we are
suddenly one step closer to the Prophetic ideal of the way we should live our
lives in this world.
Stepping
into any other mosque in the UK, indeed across the rest of the world, will
leave me personally wanting. Now I know what is possible. Now that I have seen
with my own eyes, and stepped into with my own feet, an interpretation of
creativity – all granted by God to humanity by way of inspiration. I know the
rest of us can do better. Thank you, Cambridge mosque for leading the
way. 
(*)
Ibn Qudmah, al-Mughni, vol2 p 44; Abu Shuqqah, Tahrir al-Marah
vol 2 p 195-202; al-Qayrawi, al-Nawadir wa al-Ziyadat vol 1 p 296; Sahnun,
al-Mudawwanah vol 1 p195
Read Original Report Here By About Islam