In a special night of lights, CNN honored 10 men and women as heroes of the year, including a Detroit Muslim woman.  
Though she is not the winner of this year's award, Najah Bazzy equally stands out among the top 10 contenders in recognition of her efforts to support impoverished women and children of all backgrounds in the Detroit area.
"People just need an
opportunity. And they need hope," Bazzy told CNN. "That's what we do
best."
CNN Heroes has been spotlighting the impactful work of
people across the world since 2007.
This year, Freweini Mebrahtu was named the CNN Hero of the Year and received $100,000 for her cause on Sunday night.
Designing and patenting a reusable menstrual pad, Mebrahtu
has helped end the stigma surrounding women's periods.
All 10 figures were nominated by the audience and selected by CNN to each receive a $10,000 cash prize.
Changing Lives
The life of Bazzy changed in 1996 when she, as a nurse,
visited an Iraqi refugee family to help care for their dying infant.
"There, at the house, I got my first glimpse of poverty. … They absolutely had nothing," she told CNN.
"There was no refrigerator, there was no stove, there
was no crib. … The baby was in a laundry basket, laying on clean white
towels."
"I was so devastated by that. … I decided that this
wasn't going to happen on my watch."
Taking things into her own hands, Bazzy and her family
gathered all the furniture and household items that they could find and
delivered them to the family.
Ever since, and for years, Bazzy found her passion in
serving the underprivileged.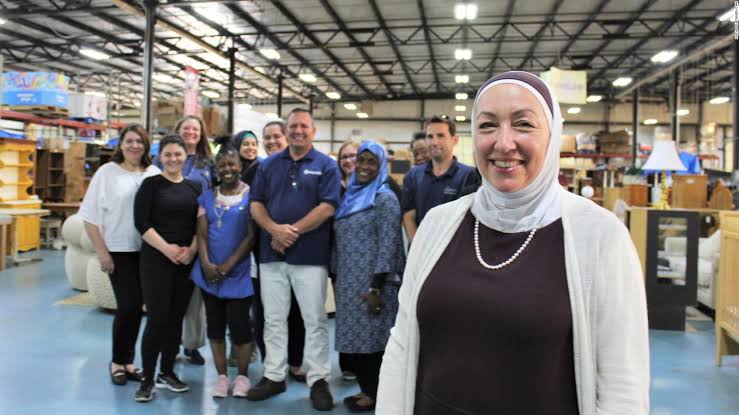 Helping Women
She founded Zaman International, a nonprofit that has provided basic necessities, education, and job training to more than 250,000 women and children of all backgrounds in the Detroit area.
The group's 40,000-square-foot warehouse in the Detroit
suburb of Inkster offers aisles of food, rows of clothes and vast arrays of
furniture free to those in need. The group's case managers help clients access
housing and other services.
"We work to
stabilize them as quickly as we can," Bazzy said. "Women walk in and
they are in desperate need, and they walk out with their basic needs met."
With an aim to help women to be self-sufficient, the
nonprofit also offers clients free education and job placement, as well as
vocational training.
"We're a one-stop-shop," she said. "We help our clients move from a 'hand out' to a 'hands-on,' because when you're in crisis … the idea of how to get yourself out of it is overwhelming."
Read Original Report Here By About Islam