Allah Says that "Saving one life is as if saving the whole humanity." Quran 5:32
As the coronavirus sweeps across the globe, Muslim charities, food banks, and young volunteers have been doing enormous efforts to help the elderly and needy.
Being the most vulnerable, many elderly people have forced
themselves in a self-isolation out of fear of coronavirus.
Therefore, many groups organized themselves to deliver food
parcels to them.
In South Carolina, three Muslim students have chosen to give
back when Greenville's most vulnerable are in need by providing groceries and
other essentials to local charities. 
"We believe that if we show mercy to others, God will show mercy to us," Fareeha Munawar said on Tuesday, Greenville Online reported.
Extended Break
Munawar helped initiate the effort with her son, Wajih Qazi, a Clemson student, Sofia Siddiqui, a student at Furman and University of South Carolina student Sameer Ebrahim.
"There are a lot of methods one could use to spend their extended spring break," Ebrahim said. "You could relax and go on the phone and be isolated from the community or you could get involved and help out and this is something to get more active and involved that I would rather do than just sitting at home by myself." 
Ebrahim said his faith played a significant role in his
desire to serve the community he loves.
"For my religion, I don't see it as rules and conditions of what I can and cannot do, I see it as a code of ethics, and the code of ethics says take care of others before you take care of yourself," Ebrahim said.
"Take care of your larger community. They don't have to be
of your religion for you to take care of them. We're all a giant community and
it's our responsibility to help others." 
Canadian Muslims Too
In Canada, a coalition of Canada's leading Muslim civil society organizations has joined forces with hundreds of volunteers across Canada, to launch a coordinated and united campaign to support the most vulnerable, Muslim Link reported.
The Canadian Muslim Response Network (CMRN) included
Canadian Islamic charities Islamic Relief Canada and IDRF.
The campaign is designed to especially help those who may be
more vulnerable to the COVID-19 virus and to the effects of self-isolation.
Various kits containing essential groceries as well as
hygiene and sanitation products to the elderly and families in dire needs will
be distributed to hundreds of homes across the country in the coming weeks.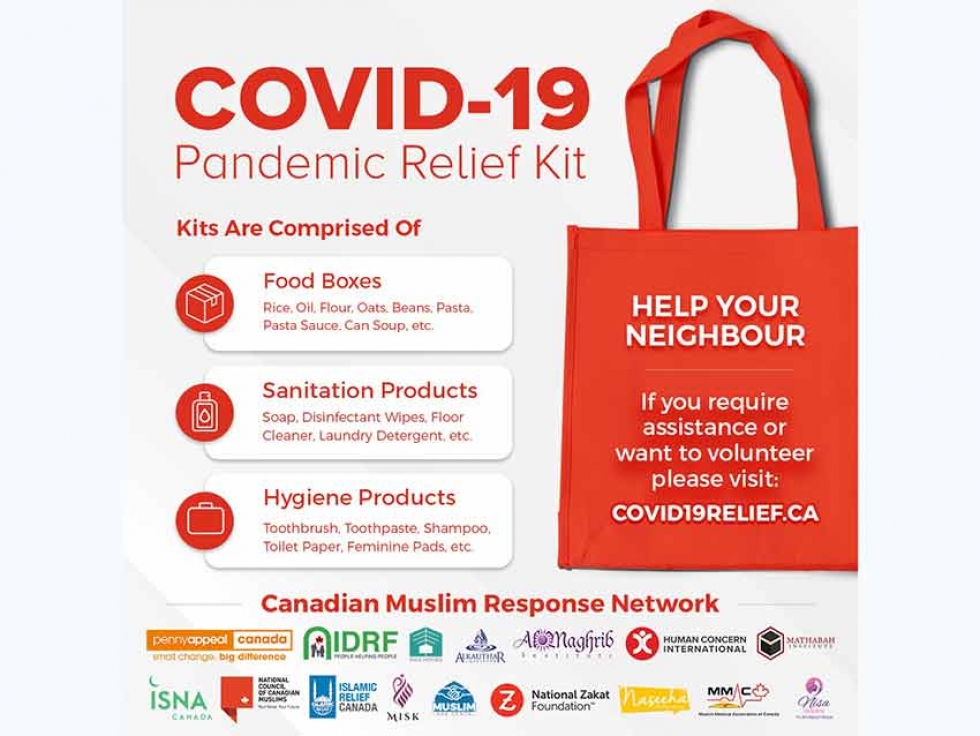 Other Efforts
As the world focuses on preventing the spread of coronavirus, Muslim bodies have come together in different forms to make positive contributions to this campaign.
In Manchester, Muslim students at the Minhaj College Manchester (MCM) have launched a new campaign for a jihad [struggle] against the COVID-19 virus. The initiative would give support to the elderly and vulnerable.
Moreover, local Atlanta Muslims have come together to identify ways of lessening the impact of the coronavirus on local families. These efforts include lunch programs for children, community feeding programs, direct financial support, and care packages for the elderly. 
A Canadian Muslim charity has launched an appeal to provide
hygiene kits to vulnerable people in the community.
Islamic charity Penny Appeal has also launched a new grant
for those affected by the COVID-19.
As of March 17, the World Health Organization said that 179,112 have been infected with the coronavirus which killed other 7426.
Read Original Report Here By About Islam