Batik is among the most recognizable manifestations of Indonesia's cultural heritage.
The famous wax-dyed fabric comes in many motifs and patterns that have become an inseparable part of Indonesia's daily life, especially in fashion, whether it is traditional or modern.
From the slanted parang klithik pattern of Surakarta in Central Java to the imposing megamendung motif of Cirebon in West Java, batik is Indonesian heritage at its finest.
One of the most recognizable characteristics of batik is acculturation. Even within Java, batik patterns are highly varied. This results from the influence of Hindu-Buddhist, Chinese and Indian cultures, as is apparent in batik found in other countries, such as Malaysia, China and Africa, each with their own materials and patterns.
An exhibition running from November 28 to 30 at the National Library in Central Jakarta displays batik that bears the marks of Islamic influence.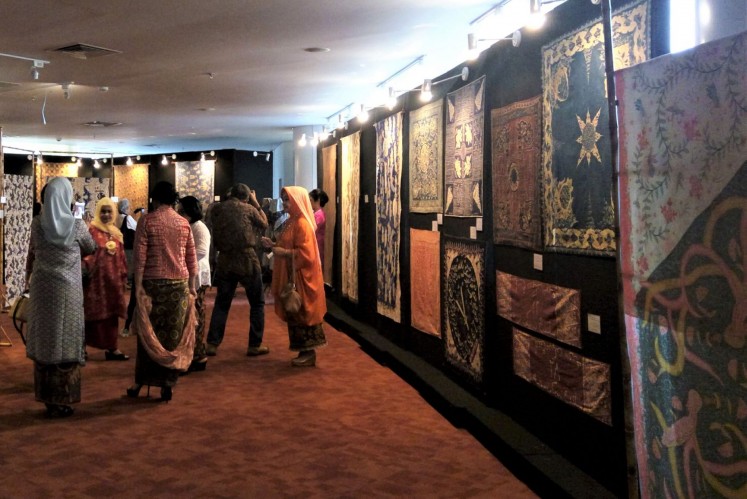 Islamic influences: Visitors view a wide range of batik whose motifs have been influenced by Islam at an exhibition held at the National Library in Jakarta until Nov. 30. (JP/Anselmo Jason)
The exhibition, titled "Inspirasi Islam Pada Batik" (Islamic Inspiration in Batik), shows more than 50 batik garments influenced by Islamic culture.
The exhibition is divided into two sections.
The wall display and display stands present batik from different galleries and collections, allowing visitors to take closer looks at the Islam-influenced fabrics themselves.
The exhibition also contains a variety of batik clothing: headbands, long cloths, sarongs and shawls. Each has a different motif from a different region, such as Cirebon, Yogyakarta and Pekalongan in Central Java. Each motif comes with its own backstory, all within the scope of Islamic culture.
One such example is the garment from Batang, Central Java, whose motif was created by the Rifaiyah Islamic community there.
The exhibition's curator Benny Gratha said the community created the unique motif because they were religiously prohibited from depicting living animals.
 "So instead of animals, they produced plant motifs," Benny told The Jakarta Post. "When they do have animal motifs, they are depicted headless in order to signify that they are no longer alive."
Other than the distinct Rifaiyah motifs, there are also other recognizable Islamic batik motifs featuring Arabic calligraphy, arabesques and patterns, as well as depictions of important Islamic events such as Isra Mi'raj and pilgrimages.
Benny said Javanese batik had both Hindu and Islamic influences.
He pointed to a garment. "We can see here it has an infinitely looping pattern, which depicts the nature of Allah," Benny says.
The exhibition's organizer, Dwita Herman, said the exhibition aims to deliver the message that Islam can live together with other cultures.
"Islam is not just a religion," said Dwita, who is also the owner of Buana Alit Gallery. "It's also a way of life."
Islamic influence on batik, she said, should not be a cause of controversy. "It is something that is beautiful," Dwita said. "So it shouldn't become a matter of argument or enmity between one community and another."
The exhibition's organizing committee member Wijayanti said the exhibition was held to allow Muslims in Indonesia to know that Islamic-influenced batik has been around in Indonesia for some time.
— The writer is an intern at The Jakarta Post.
Your premium period will expire in 0 day(s)
close x
Subscribe to get unlimited access
Get 50% off now