Shutting its doors for communal prayers, the Masjid Ibrahim and Islamic Centre in east London is leading truly remarkable efforts to help the community during this time of grief and hardship due to Covid pandemic.
Armed with a team of volunteer, battling to deal with the pandemic, the mosque provides a funeral service and a food bank to the local community. 
"We've had so many bodies coming in. It's quite shocking. It's one after another after another. We've never had that situation before," Sofia Bhatti told BBC News.
???? Read Also:  UK Faith Leaders Urge Precaution as Houses of Worship Remain Open
Bhatti and her friend Tabassum Khokhar are unheralded heroes. They volunteer to wash the bodies of Covid-positive women prior to burial.
"We actually believe that when we are shrouding here, that God is shrouding the soul at the same time," says Tabassum, standing by a coffin.
Tabassum works as a teaching support worker in a local school, so the PPE that the mosque provides – bodysuit, footwear, two sets of gloves, masks and visors – is crucial for her.
"I make sure my PPE is secure because it's not just about me, it's about my family. I have an 81-year-old mother."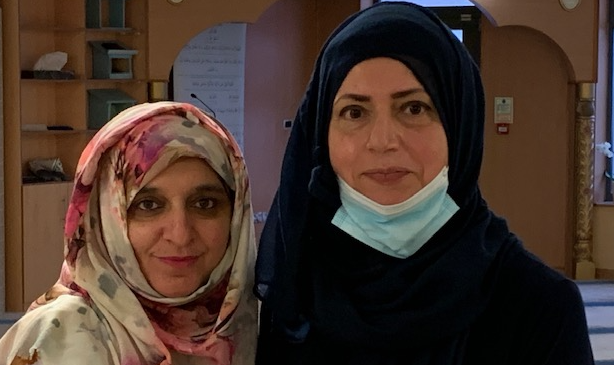 Food Bank
In addition to its funeral services, the mosque opened a food bank last March. It is still running 10 months on to feed 350 families each week, including students, refugees, people with no access to public funds and those who've lost income.
Mohammad Rahman, a 42-year-old chef who lost his job in an Indian restaurant three months ago, is one of those who depend on the mosque's food bank.
The married father of two boys, 8 and 6, has been struggling to pay his energy bills. "My son says 'where is the pizza'? But I have no money. He says '[can I have] chicken and chips'? But I have no money. The shops are open, but no money", he adds, taking his hands from his pockets.
Closing doors to prayers, Asim Uddin, chairman of the mosque, believes the doors should remain closed for now.
"Prayers, yes, it's important. But right now what is the need? The need of the community is they want to be fed and they want a place where they can respectfully bury their loved ones. And the demand is overwhelming. Right now, it's better they stay home, and they can pray at home until the situation goes back to normal."
Earlier this month, Muslim, Christian, and Jewish leaders in England urged caution after the government announced that places of worship could remain open.
In December, a mosque in Bristol also said they will remain closed to protect the community due to the recent spike in the COVID-19 infections.
Islam has prescribed certain guidelines to deal with infectious disease outbreaks that affect a community, or even the entire world. COVID-19 is one such case in point.
Click here to read more about: What Are the Islamic Guidelines on Dealing with COVID-19?
Read Original Report Here By About Islam