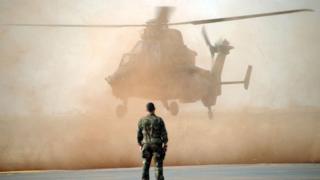 Thirteen French soldiers have been killed in a helicopter collision during an operation against jihadists in Mali, the French president's office says.
President Emmanuel Macron expressed "deep sadness" over the biggest single loss of life for the French military since the 1980s.
An investigation has begun into how the two helicopters hit each other.
Thousands of French troops have been deployed in Mali since 2013 after militants overran parts of the north.
Mali's army has since recaptured the territory but insecurity continues and the violence has spread to neighbouring countries.
France now has 4,500 troops deployed to support the forces of Mali, Mauritania, Niger, Burkina Faso and Chad against the jihadists.
French Defence Minister Florence Parly vowed that her country would not turn its back on the fight against terrorism after the deadly collision.
"We fight alongside our partners and brothers-in-arms from Mali, Niger and Burkina Faso to together give these countries the peace and stability to which their people aspire," she said.
What do we know about the collision?
It happened in darkness around 19:40 local time (also GMT) on Monday near the borders of Burkina Faso and Niger where the aircraft were reinforcing ground troops who were pursuing militants, the French military says.
A Tiger attack helicopter hit a Cougar military transport mid-air as it manoeuvred to engage the militants, who were fleeing on motorbikes and in pick-up trucks.
The two aircraft crashed not far from each other, killing everyone on board including six commandos and an officer.
Among the dead is the son of French Senator Jean-Marie Bockel, Pierre, who was a lieutenant.
How big a blow is this for France?
"These 13 heroes had only one goal: to protect us," President Macron wrote in a tweet. "I bow my head to their loved ones and comrades."
A minute's silence was observed at the National Assembly in Paris.
Condolences were sent to President Macron from his Malian counterpart Ibrahim Boubacar Keita and Burkina Faso's President Roch Marc Christian Kabore.
"The loss is heavy but the peoples of the Sahel share your bereavement," President Keita said.
It is the heaviest toll in a single incident since 1986 when a French sea surveillance plane crashed into a mountain in northern Djibouti with the loss of 19 soldiers.
In total, 41 French soldiers have been killed in Mali since the country first intervened.
An officer, Brig Ronan Pointeau, was killed earlier this month after an explosive device detonated near his vehicle.
The brunt of the violence though is faced by local forces and civilians. An attack on a northern military post this month left 53 Malian troops dead.
Who are the militants?
Both the Islamic State (IS) group and a branch of al-Qaeda called Jamaat Nusrat al-Islam wal-Muslimin (JNIM) are active in the region.
Under the name of its so-called West Africa Province, IS operates in Mali, Nigeria, Niger and Burkina Faso.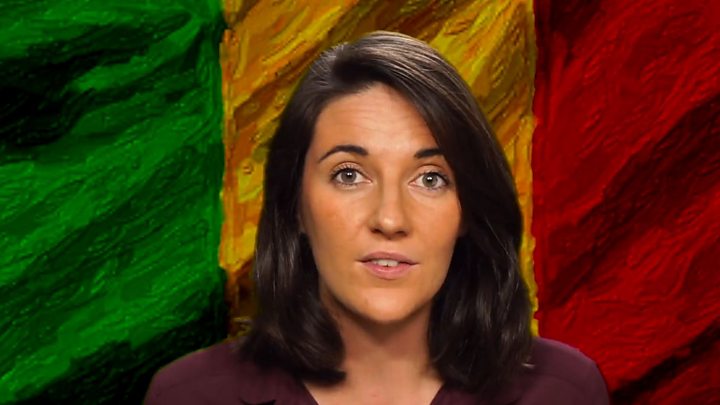 It claimed major attacks on the Malian army this month as well as several small-scale attacks on French forces in Mali and Niger.
JNIM, which operates mainly in Mali but also Burkina Faso, has claimed attacks on UN, French and Malian forces but singles out France as its main enemy.
French mission grinds to a halt
The helicopter accident that has killed 13 of its soldiers is more bad news for France from a combat mission already beset with questions over its efficacy and purpose.
After initial successes in suppressing Islamist rebels in northern Mali in 2013, the French deployment was extended into a regional mandate under the operational name Barkhane.
But recent months have seen a resurgence of groups linked to Islamic State and al-Qaeda, with the focus of their activity shifting to the centre-east of Mali and the area bordering Niger and Burkina Faso.
Writing recently in Le Monde, a former defence co-ordinator at the French foreign ministry warned Operation Barkhane was "in an impasse".
"On the ground the facts are plain. The rise in strength of the jihadists is a reality we can no longer deny. It is they who have the initiative," wrote Bruno Clément-Bollée.
"In the Sahel, France has a lot to be worried about… We seem to have no idea how to get out of the quagmire."