Arshad Mehmood Khan, Scotland Correspondent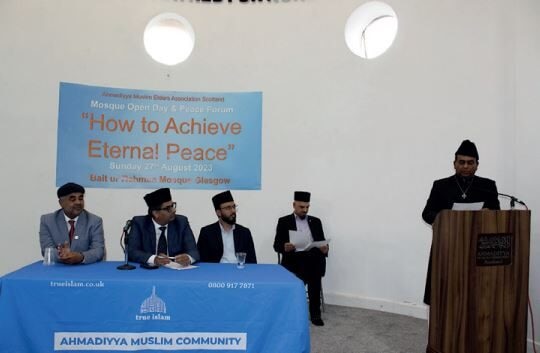 Majlis Ansarullah Scotland hosted a peace forum on 27 August 2023, attended by more than 50 guests, gathering community leaders, representatives, and attendees from diverse backgrounds to discuss and promote the path to everlasting peace. The event started with a recitation from the Holy Quran and its English translation, followed by a video containing the introduction of Ahmadiyyat.
Tahir Naseem Ahmad Sahib, Nazim-e-A'la Majlis Ansarullah Scotland, welcomed all guests to the event. A slideshow was presented that featured various charity projects run by Majlis Ansarullah, including the collection of donations in the Scotland Region.
The peace symposium, held at the Baitur Rahman Mosque in Glasgow, was a resounding success, with a diverse audience coming together to explore avenues for fostering harmony and understanding in society. The forum featured many esteemed speakers, including representatives from the local churches and Rotary International, along with Fakhar Ahmad Aftab Sahib, the regional missionary.
One of the pivotal moments of the peace forum was the unanimous condemnation of the recent attack on the Christian Community in Jaranwala, Pakistan. All speakers, irrespective of their religious backgrounds, joined in condemning extremism and violence against any community. A statement issued by Majlis Ansarullah Scotland reaffirmed their commitment to peace, unity, and solidarity among all communities.
Dr Abdul Hayee Sahib, Regional Amir of Scotland, delivered a vote of thanks at the end, and refreshments were served to the guests.