Refugee Resettlement
Humanity First is a humanitarian relief organization established in 1995 and currently registered in 50 countries across 6 continents. Humanity First has been working on human development projects, and providing humanitarian aid to those affected by natural & man made disasters. Humanity First undertakes emergency relief operations around the world providing medical assistance, shelter, water, food, clothing and sanitation to affected populations.
Humanity First is at the forefront of privately sponsoring refugees and resettling them in Canada. Thus far, Humanity First has successfully resettled hundreds of refugees in Canada. They are now well integrated and are positively contributing to the society. We continue to sponsor Refugees and assist them to resettle in Canada.
Humanity First also has consultative status with the United Nations Economic and Social Council (ECOSOC).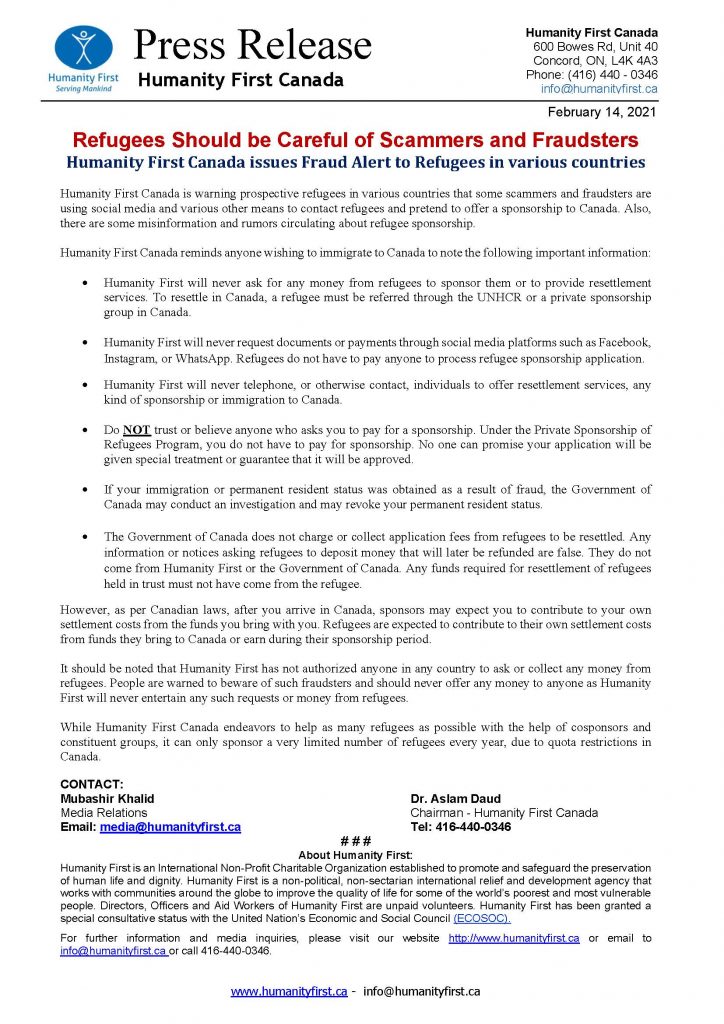 Humanity First understands the importance of providing refuge to those fleeing from violence, persecution, and war-torn countries. That's why despite many challenges, we have been at the forefront of refugee resettlement in Canada as a recognized sponsorship Agreement Holder. Over the years, we have already helped settle around 4000 refugees in Canada.
Safety and stability are key elements in helping people live their potential as contributing members of society, and we at Humanity First help to facilitate that for those in need.
Currently, the refugee crisis continues to grow in Thailand and Malaysia. Thousands of people, who have fled persecution and violence, and many separated from their families are living in dehumanizing conditions, deprived of basic necessities and are suffering for many years.
Humanity First is limited to sponsor only a very small number of refugees every year due to the quota restrictions from the government. However, Humanity First continues to provide other types of aid and assistance to refugees locally in these countries. This includes food rations, medicine, and other urgent assistance as needed. In addition, Humanity First has also established 4 schools to help with the education of refugee children.
While we are unable to sponsor and resettle every single refugee, local help is available to everyone at the time of need through our local representatives.
Despite our limited resources and capacities, a little care with the support of our donors goes a long way in easing the pain and suffering of these very vulnerable people.
The Syrian Crisis is one of the worst humanitarian disasters of recent times. In fact, it is the worst human displacement since World War II – almost 11 million i.e. half the Syrian population are displaced, over 220,000 killed, and more than 16 million Syrians are in urgent need of assistance inside and outside of Syria. Syrians are now the largest refugee population in the world. 50% of these refugees are children at risk of abuse and human trafficking.
Humanity First recently organized a Donor Conference that provided an unprecedented opportunity to all Canadian stakeholders, groups and individuals in sponsoring Refugees to enhance their awareness and operations of the sponsorship process. The Conference provided a platform to trigger synergetic relationships with other groups, thereby, utilizing the full potential of the sponsorship and resettlement process. The following topics were discussed in it:
Sponsorship process and challenges
Resettlement process and challenges
Canada's role in refugee resettlement
Canadian donors and sponsors engagement their resources.
This conference was especially beneficial for participants from Refugee Sponsoring Organizations, Resettlement Organizations, Constituent Groups, Individuals and Groups interested in sponsoring refugees, Volunteers wishing to engage in the resettlement process, Government agencies engaged in refugee affairs, Donors, Supporters and Religious organizations assisting with refugee resettlement.
It also provided an opportunity to connect with those wanting to offer funds and resources to sponsor refugees, and to educate individuals and groups, how they can work with sponsorship organizations to assist the refugee. Individuals looking to donate funds and resources, or those interested in volunteering to assist Syrian Refugees found the conference very helpful to learn about the organizations and methods to get involved and make an informed decision about allocating their resources.
Humanity First is at the forefront of Refugee Resettlement as a Sponsorship Agreement Holder Organization (SAH). Humanity First believes that response to the humanitarian crisis of such a scale requires a collective effort, collaboration, and most of all, compassion and an unshaken resolve to serve humanity.
Our effort is to remove suffering and make a difference by making our contribution to this global effort. Together, We can make it happen!
It is as simple as 1, 2, 3…
1- Partner with a Humanity First as a Constituent Group or Co-sponsor:
If the Co-sponsor is an individual, the individual must:
be 18 years of age or older
be a Canadian citizen or permanent resident of Canada
reside in the community where the refugee is expected to live
If the Co-sponsor is an organization, the organization may be:
a corporation
an unincorporated organization
an association
another SAH or CG
Humanity First will review and discuss all the details pertaining to sponsorship and resettlement as well as the roles & responsibilities of your group. You will then sign the 'Sponsorship Agreement' or 'Memorandum of Understanding' with Humanity First. The agreement will serve as a reminder to both the parties of their roles and responsibilities during the sponsorship & resettlement process.
It should however be noted that sponsorship requirements may vary from case to case. Additional considerations may be required when evaluating a sponsorship case.
2- Prepare to Provide Financial Commitment to support the Refugee(s):
Funds must be available to provide financial and settlement support to the sponsored refugee(s) for up to 12 months after arrival in Canada. Please note that the settlement funds cannot come from refugees. We will need a written confirmation that no amount has come from the refugee(s) either directly or indirectly.
The cost of living varies from one region to another; however, the following table provides an estimated cost based on family size.
Discuss with your Humanity First how to manage and administer funds.
Tax receipts might be available for some donation types in accordance with the guidelines provided by the Canada Revenue Agency.
Sponsorship Cost Table:
IMPORTANT
Please note that the above amounts are based on assumption that the children will be under 18 years of age on arrival and during the first year in Canada. If the children are over 18 years or turn over 18 during the sponsorship period, then additional funds will be required as per the schedule of a single adult.
The recommended amounts above are not IRCC's minimum suggested amounts. The actual sponsorship amount varies from city to city depending on various factors such as rent, cost of living, RAP rates etc. Sponsors are advised to have funds available based on the cost of living in the community of settlement. Please see the example.
Humanity First does not charge any commission and does not deduct any amount from the total resettlement funds. 
It is Humanity First Experience that the actual cost of sponsorship is usually higher than the minimum recommended amount.
Example of Average Total Resettlement Cost in Greater Toronto Area:
3- Prepare a Settlement Plan:
A settlement plan details how you intend to deliver the various aspects of settlement assistance needed to help the refugee applicant(s) establish successfully in Canada.
Where practical, the planned arrangements should be in place before the refugee arrives.
Discuss the settlement arrangements and your responsibilities with Humanity First.
That's it! Then just wait for the arrival of your sponsored refugee family. During this time, Humanity First will guide and prepare you on how to be ready for the resettlement work. Once the sponsored family arrives, then you will receive them from the airport and assist them with all aspects of resettlement for the next one year.
As Co-Sponsor or Constituent Group, you agree to provide them with care, lodging, settlement assistance and social support. Normally, a private sponsor supports a refugee for 12 months, starting from the refugee's arrival in Canada or until the refugee becomes self-sufficient, whichever comes first.
SOURCE https://www.humanityfirstcanada.ca/refugee-resettlement/