A Muslim group in Preston, Lancashire, will host a matrimonial event early next year to help disabled Muslim women find marriage partners, Asian Image reported.
"At Disabled Muslim Matrimony we want to create a space where people from all walks of life can come together and feel safe, comfortable and at ease to meet other like-minded individuals for the purpose of marriage," Tasneem, founder of Disabled Muslim Matrimony, said.
The free event
will be held on 30 January 2020 in Preston, Lancashire.
"We understand
that finding a suitable marriage partner can be difficult even in the best of
times, even for those who may not have the challenges that disabled individuals
face," Tasneem added.
"The mountain of
worries and potential difficulties that may arise at single's meetup events or
gatherings, as well as the issues which make attending match-making events
difficult (i.e. not having the support and care needs in place) may put many
disabled people off attending them. This ultimately leaves them further
isolated and reduces their chance of finding a partner.
"We want all our members to feel welcomed without the fear of judgment from others."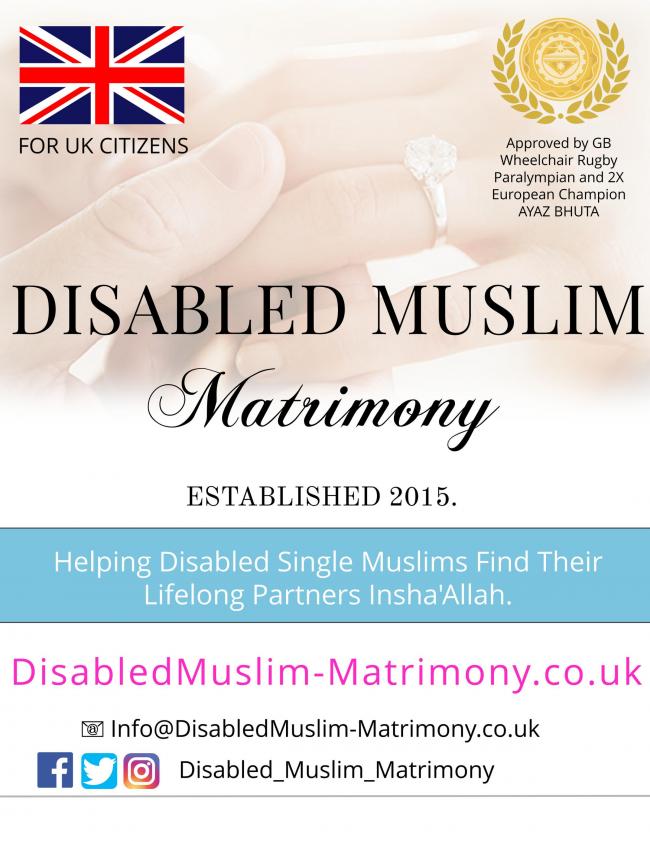 A Disabled Muslim Matrimony member added, "It is these kinds of events that I will most probably be most comfortable being me and being open as everyone's in the same boat."
The event will be
attended by Ayaz Bhuta, Great Britain Wheelchair Rugby Paralympian and two
times European Champion who will be giving an inspirational speech about
self-empowerment and marriage.
"I'm honored to support the Disabled Muslim Marriage service,"
Ayaz said.
"It's a great initiative to help disabled Muslims complete half their deen.
"Hopefully this service will help reduce the stigma towards
disability and marriage in the community."
Islam recognizes the value of sex and companionship and
advocates marriage as the foundation for families and channeling the
fulfillment of a base need.
Marriage is highly valued and regarded as being half of
one's faith, according to a saying of Prophet Muhammad (peace be upon him).
Allah Almighty describes the beauty of the sacred bond of
marriage in the Holy Quran:
{And among His signs that He has created for you — from
your very selves — spouses, to dwell to one another. And He ordained between
you tenderness and mercy. There, truly are signs in this for those who
reflect.} (Ar-Rum 30:21)
Read Original Report Here By About Islam