For the second time in a few months, a local mosque in Oxfordshire has received an award in recognition of its services during the COVID-19 pandemic.
The Banbury Mosque received the Unsung Hero award on Friday, August 14, from MP Victoria Prentis.
"Thanks to your hard work and dedication, you have helped make the lockdown period a little easier for so many," Prentis, member of Parliament for North Oxfordshire, wrote in a letter to the mosque, Banbury Guardian reported.
???? Read Also: COVID-19 Summer: Have Fun but Beware
"We owe an enormous debt of gratitude to all those who like you, have worked so hard to support their local community.
"In recent weeks, I asked my constituents to nominate their 'Unsung Hero' of the coronavirus outbreak. Thanks to all you have done for the residents of Banbury by providing boxed food for those in need and continuing to support your community virtually throughout Ramadan, you received a nomination."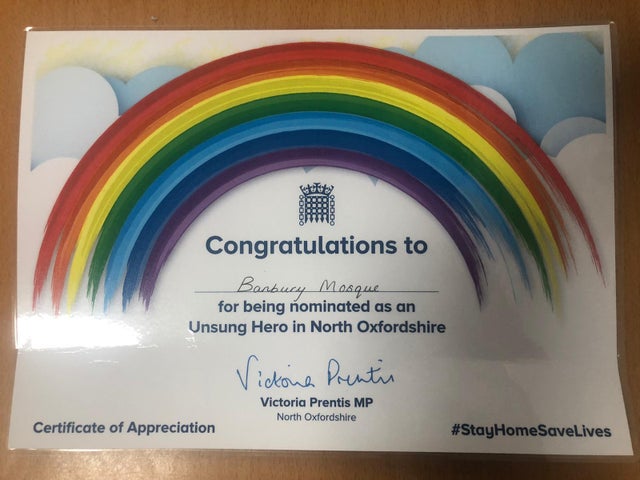 Over the past weeks, the mosque launched hygiene bank in addition to the food bank & community fridge.
The mosque volunteers have delivered thousands of isolation food packs to vulnerable people over the age of 65 in the community during the coronavirus pandemic.
Honors Galore
In April this year, and in recognition of its efforts to serve the community during the COVID-19 pandemic, the Banbury Mosque received a letter of gratitude from the Oxfordshire representative of the Queen's Office.
The letter by Oxfordshire's Lord-Lieutenant, Tim Stevenson OBE, commended the mosque leaders and volunteers efforts over the past months.
The mosque leaders said the honors touched them, confirming that volunteers from all faiths participated in preparing food parcels.  
"The Banbury Madni Mosque team consisted of 48 volunteers who participated in delivering and preparing the food parcels. Whom are from different faiths and diverse backgrounds, a true example of community spirit serving Banburyshire," Abu Hassan Hanif, chairman of the Banbury Mosque, said.
"The Banbury Madni Mosque would like to thank all those who volunteered and helped tirelessly and selflessly to make this happen. You truly are amazing and the real unsung heroes."
Earlier this month, the umbrella of the Muslim Charities Forum (MCF) said that 194 charities have provided a range of services for those most in need due to the outbreak.
Islam lays a great emphasis on the virtue of neighborliness, stressing on Muslims' individual duty to be good to their neighbors.
Read Also:
Read Original Report Here By About Islam