Muslim groups do not receive the same support as mainstream charities, says report
---
Volunteering and charitable work carried out by Muslim organisations does not receive the same "appreciation and support" as mainstream charities, according to a new report.
The report, The Neighbours Next Door: The Story of Muslim Organisations Responding to Covid-19, was published by the Muslim Charities Forum (MCF) today.
MCF has been carrying out a mapping exercise capturing the work that is being done nationwide. 
It says: "Volunteering and charitable work within the Muslim community does not receive the
same appreciation and support in comparison to the mainstream civil society groups."
It adds that this "applies particularly Muslims working or volunteering within mosques, Islamic organisations/charities or cultural organisations".
Only 16% of Muslim-led local charities have so far received institutional funding for their Covid-19 response.
It states "there has been poor outreach and little effort made by institutional funders" and that "this has been a historical issue".
This concern has been raised with the National Emergencies Trust and UK Community Foundations, "which, to their credit, have taken this into account". As a result, there has been greater consultation with BAME-led groups, which has now resulted in small to medium sized BAME led groups accessing some funding.
It adds that there are some organisations within the Muslim community who do not engage enough with the wider community and therefore do not access mainstream support. 
READ MORE: Sallah: Police urge Muslims to comply with rules to curb COVID-19
There is also an issue of capacity and expertise. The report states that often the right people are not available within the organisation to facilitate outreach. This can occur within mosque structures, where it is the elderly in the community that lead the institution.
194 Muslim charities responding to Covid-19 in the UK
The Muslim Charities Forum (MCF) identified 194 UK Muslim charities responding to Covid-19. 
The majority of Muslim organisations responding are either mosques or voluntary groups. Some are well resourced whilst others are operating on very limited resources.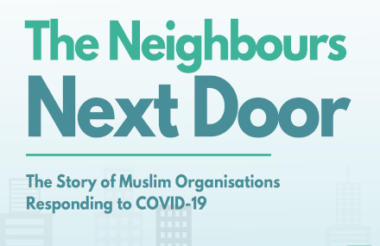 They are heavily reliant upon community fundraising as they have less access to institutional funding. 
Traditionally the British Muslim charitable sector has responded to events abroad, but many Muslim organisations have refocused resources to needs in the UK.
BAME communities and large sections of the Muslim community are in greater levels of poverty in comparison to the wider society, so hardship funds distributed by charities has been an effective way to support individuals.
Smaller charities responding quickest 
MCF found small to medium sized charities have been fastest to respond to the pandemic "and have carried out the bulk of the work in supporting the community". These charities will have the least resources available to them to sustain this level of commitment.
This is partially because community donations may dry up once the initial crisis is over, and as people's incomes fall for an extended period. 
The organisations supported a wide range of vulnerable individuals through the crisis but should conduct a needs assessment of their area and have a much more targeted response whilst collaborating with other community partners to ensure no-one is left behind, the report adds.
Future predictions and aims 
The report states that given Muslim charities are taking up the responsibility of supporting large sections of the community, "the strain on them will be felt very quickly". 
As Muslim charities are heavily reliant upon community donations, if the community itself falls into greater financial difficulty, so will the charities.
In the longer-term, the upskilling of volunteers and staff within the sector is needed, the report states.
---
Source: Civilsociety.co.uk