A pillar of Islam, Zakat or charity is a religious obligation for all Muslims who meet a criteria of wealth. It's a mandatory charitable contribution through which the right of the poor to find relief from the rich is secured.
Allah says in the Holy Quran Chapter 2 Surah Baqarah verse 274:
"Those who spend of their goods (in charity) by night and by day in secret and in public shall have their reward with their Lord: on them shall be no fear nor shall they grieve."
???? Read Also: Muslim Non-profits Raise Funds During Giving Tuesday
In a difficult year for many, generous Muslims came together to celebrate giving, crowdfunding more than $1 million in a single day.
The news was announced by LaunchGood, a global Muslim crowdfunding platform, at the end of GivingTuesday, a day when charities, businesses, and individuals came together to flex their philanthropy
"Thank you and congratulations! With your help we raised over $1M in just one day," the platform wrote.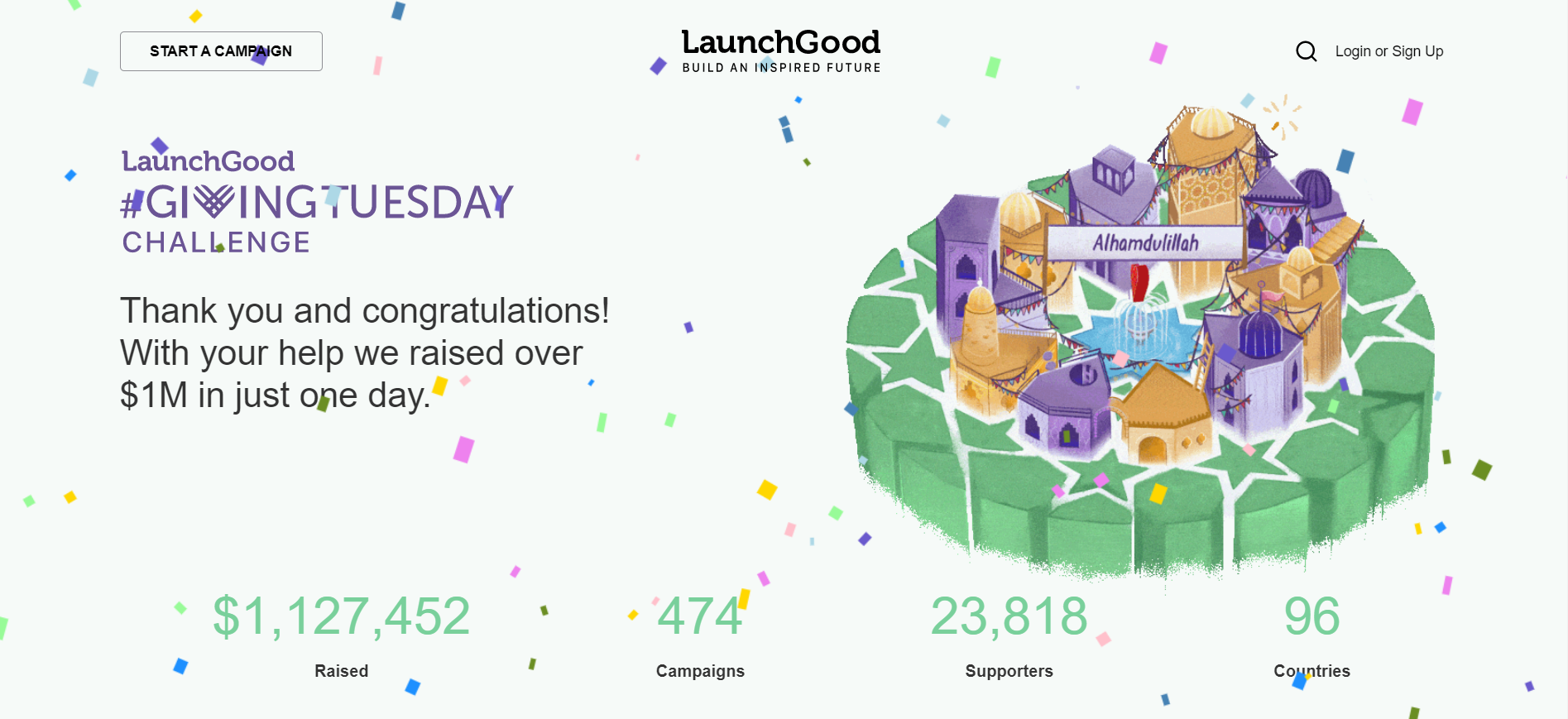 Challenge Winners
LaunchGood held a giveaway of $100K in prizes on Giving Tuesday, December 1, 2020. All live campaigns on www.launchgood.com were eligible to win prize money towards their causes.
According to the platform website, the 'Help build God's House #MOTW' campaign by the AL Huda Foundation was the first winner, receiving $20,000. The campaign, launched to build a new mosque for Indiana growing Muslim community, raised $117,068.
In second place was Get Noor Kids onto Netflix. The campaign won $10,000 from LaunchGood after its supporters raised $98,645.
The third prize of $5,000 went to Pilgrim's Global Fundraiser which raised $84,751 in a single day.
Another category of prizes was offered to campaigns with the biggest number of supporters. The first three winners were 'Help build God's House #MOTW', 'Pilgrim's Global Fundraiser', and Islamic Relief Canada '#PPE4Gaza Save Gaza From Covid'.
GivingTuesday is a global generosity movement unleashing the power of people and organizations to transform their communities and the world.
Started in October of 2013, LaunchGood has grown to facilitate more than 20,293 campaigns in more than 144 countries. To date, $173,808,450 has been funded.
Last year, the crowdfunding platform encouraged more than $755,000 in donations in a single day.
Read Original Report Here By About Islam