Wearing hijab is an act of worship and an integral part of many Muslim women's identities. The head covering has been the source of socio-political controversy across the globe, including the institution of bans in Europe.
Muslim women may also be targeted because hijab serves as a marker of their faith. This results in what is called hijabophobia, a form of discrimination (and sometimes violence) against women.
Despite the hate, many Muslim women continue to don their hijabs in a myriad of styles, requiring places to acquire them.
Filling a void in her community, Lailah Abdul-Rahim has recently opened InCogNito House of Scarves, a boutique in Spring Hill, Florida.
InCogNito offers area Muslim women a stylish, personalized hijab experience with plushed seating and mirrors.
Hijabs in a range of fabrics, styles, and colors hang from bright walls and adorn mannequin heads. Rugs and lamps finish off a look that invites women to come in and embrace their Muslimness.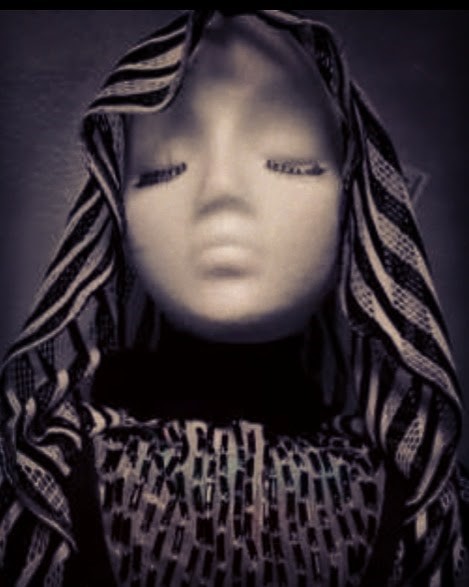 Why Hijab Shop?
"I opened my boutique to give Muslim women a
place outside the masjid or a sister's house, giving them the opportunity to
meet other sisters in a cozy setting," Abdul-Rahim told AboutIslam.
"Everyone orders online today. Women don't
always want to wait for a shipment to find out if the hijab they bought is what
they need. Sometimes, they want to feel the fabric, get suggestions and have
the product in their hands immediately. They also want the chance to talk to
someone while they try it on. Seeing a hijab on a computer screen can't compare
to draping it over your head, feeling it on your face and seeing the color
against your skin."
"Wearing hijab is an individual experience. My boutique offers a personal touch for Muslim women that honors their experiences in a way that the scarf section in a department store doesn't. This is their space for them as Muslims."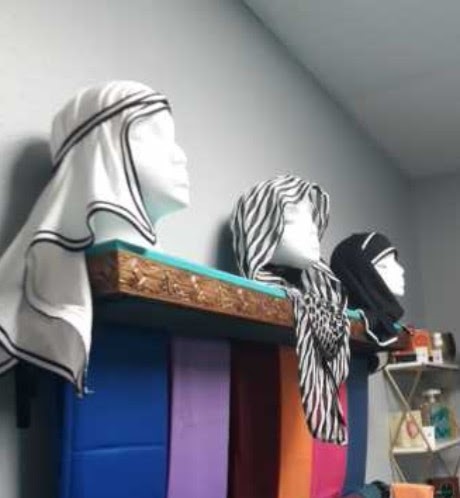 Community Building
When asked how her store fulfills the needs
of area Muslim women, Abdul-Rahim pointed out the growing community.
"Opening the store was more of a statement that the community, which has a lot of Muslims, also has a hijab store. That, in itself, shows our progress and growth."
"As the population of Muslims grows in an area, a local masjid is not enough. They also need halal food, restaurants and clothing stores. Shopping in an establishment that caters to the unique faith-based needs of Muslims is a must in burgeoning communities.
"InCogNito is an example of how our community is expanding and appreciates the needs of Muslim women who cover," Abdul-Rahim added.
Muslimah Style
In the US, communities increasingly serve
diverse populations of Muslims from an array of backgrounds, including
immigrants and native-born. Diverse communities require goods and services
reflecting the enriched culture. 
"Variety is very important because Muslims are so diverse in ethnicity, culture, styles, and expressions," explained Abdul-Rahim.
"American Muslim women often have professional and social demands impacting how they cover. Work, taking the kids to soccer practice, or dressing up to meet a suitor, date night or a community event, all of them require different ways of covering. Who we are and how we navigate our lives influences our hijab choices."
Abdul-Rahim told AboutIslam that she wants her store to be a safe space where Muslim women can positively explore their relationships with the hijab.
"In my experience, every woman I have ever witnessed put on the hijab—creating her own refined, feminine, independent and strong look—takes on the air that they are unapologetically Muslim," she said.
"Hijab can be an advertisement for confidence. You can walk in the room and be different and YES hold your own.
"My goal is to inspire women to see the
beauty in modesty and mystery. In being InCogNito, they are beautiful while
concealing the ultimate beauty given by Allah."
Read Original Report Here By About Islam