Hundreds of students at an Islamic school in Illinois welcomed hijabi Muslim Olympic fencing medalist Ibtihaj Muhammad to their school, seeing her success as an inspiration.
The fencer visited the Islamic Foundation School and mosque in Villa Park in an event attended by 550 students, parents, employees and community members, Daily Herald reported.
"All week their teachers must have been talking up this event," said Rabia Hussain of Oak Brook, whose three children attend the preschool-through-12th-grade school.
"My son wants to be a fencer now," she said of her first-grader, Idris, 6.
📚 Read Also: Ibtihaj Muhammad Success Inspires New Generation of Hijabi Fencers
The 2016 Olympic bronze medalist in sabre fencing gave a talk before the entire school community, followed by a book signing of her children's titles, "The Proudest Blue" and "The Kindest Red."
Promoting Reading
Principal Farhat Siddiqui said bringing Muhammad to the school was part of the school's efforts to promote literacy and reading.
"Her perseverance is what is commendable," Siddiqui said. "That resilience is what we want to nurture in our students."
Muhammad's story of overcoming challenges and biases to excel in her profession was inspiring to students.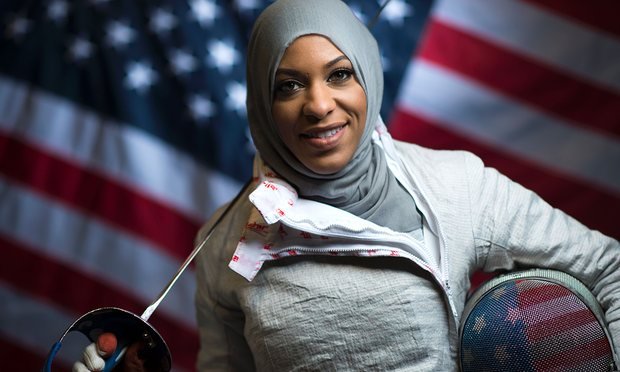 Parent Ambreen Qureshi of Itasca said her 8-year-old daughter Hanifa, a second-grader at the school, sees Muhammad as an inspiration.
"She can't believe she got to meet her," Qureshi said. "It's a huge experience for the kids."
Around the world, Muslim women are defying stereotypes to compete and excel at the highest levels of sports. This includes football, fencing, weightlifting, basketball, ice hockey and more.
Read Original Report Here By About Islam