Allah SWT says in the Qur'an "O humanity! Indeed, We created you from a male and a female, and made you into peoples and tribes so that you may ˹get to˺ know one another." 49:13
Believing in the importance of reaching out to others and spreading messages of understanding, a New Zealand imam will be holding a Qur'an exhibition on Saturday (Dec 12) to pull down barriers.
The exhibition, which has toured different towns across New Zealand, will come to Nelson on Saturday.
???? Read Also: Noble Qur'an from 1579 Exhibited in Montenegro
The centrepiece of exhibition is the te reo Māori translation of the Qur'an. In addition, the imam will host a seminar with a question-and-answer session.
"Because there is a lot of misinformation about Islam, we have been going around the country for a number of years dispelling myths," Imam Mustenser Qamar, who has spent the past several years doing community outreach to help dispel myths about Islam, told Stuff.
"The more avid a news-reader people are, the more likely they are to have anti-Muslim beliefs."
He is also open to people wishing to ask any questions to foster friendship and understanding.
"Sometimes we do have some people coming to the exhibit who are very hostile, who start shouting things like 'go back to your own country' and so on, but the majority of people are really interested. Some people stay in touch with me to this day," Qamar said.
"We're open to everything, no matter what their intention is. I think that's important, if we don't open up to everyone and allow people to question things, it's just going to allow certain thoughts to spread and allow the rise of the far right."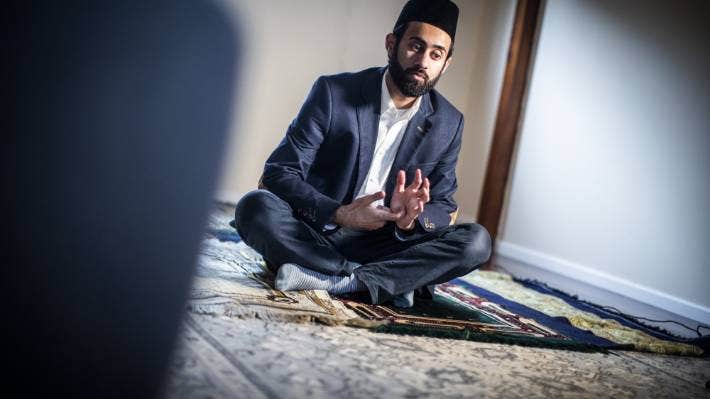 NZ Muslims
Islam in New Zealand is adhered to by about 1% of the total population. Small numbers of Muslim immigrants from South Asia and Eastern Europe settled in New Zealand from the early 1900s until the 1960s.
Large-scale Muslim immigration began in the 1970s with the arrival of Fiji Indians, followed in the 1990s by refugees from various war-torn countries. The first Islamic center opened in 1959 and there are now several mosques and two Islamic schools.
The number of Muslims in New Zealand according to the 2013 census is 46,149, up 28% from 36,072 in the 2006 census. 
The majority of New Zealand Muslims are Sunnis but there is a large number of Shias who live in New Zealand, concentrated mainly in Auckland (the largest city of New Zealand).
Read Original Report Here By About Islam