Last Updated on 31st March 2023
Shahid Ahmad Masud, Regional Missionary, Ivory Coast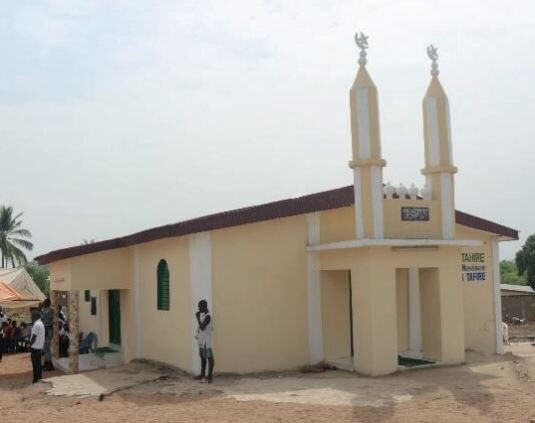 Tafiré is a town that is located in the north of Ivory Coast, in the Ferké region. The population of this town is about 20,000. Ahmadiyyat was established here 25 years ago. The Jamaat members have continued to offer prayers at the local mu'allim's house since then. In 2021, the jamaat got the opportunity to build a mosque, which was formally inaugurated on 26 February 2023.
The piece of land for the mosque was offered by a local Ahmadi family, situated beside the highway that connects Ivory Coast to two neighbouring countries, Burkina Faso and Mali. A non-Ahmadi Muslim liked the building of the mosque and took responsibility for its renovation.
The inauguration ceremony was held on 26 February 2023. Amir and missionary-in-charge Abdul Qayyum Pasha Sahib, along with his delegation of national heads of auxiliary organisations and national amila, attended the ceremony. The deputy governor, deputy mayor and local (Gendarmerie) police commander and a representative of the grand imam were present. The ceremony started with the recitation from the Holy Quran followed by an Arabic qasidah written by the Promised Messiahas. After this, a brief introduction of Jamaat-e- Ahmadiyya was presented to attendees. Amir Sahib delivered a speech on the "Importance and Objectives of Building a Mosque", and some other speeches on different topics were delivered by other members in French.
The Deputy Governor congratulated and appreciated the humanitarian services of Jamaat-e-Ahmadiyya, and concluded the event with silent prayer. More than 300 people were present at this ceremony and half of them were non-Ahmadis. Two journalists were also present. In this manner, the true message of Islam Ahmadiyyat was conveyed to them in an effective way.