Believing that charity begins at home, Londoner Alaa Hamdy usually awaits the month of Ramadan to send her charity to help Muslims in the UK.
"The charity [I donate to] supports asylum seekers and those who need help the most in the UK," she said.
"I find this more reassuring and quicker to send my zakat money to. I would like to be able to send money to other countries, too, soon, but for now, it's going to those closer to home."
📚 Read Also:  8 Tips to Make Your First Ramadan a Ramadan to Remember
Like Hamdy, many Muslims believe that rewards are multiplied in the fasting month.
Prophet Muhammad (peace be upon him) said: "Ramadan is an honorable and blessed month, and the rewards for generosity are multiplied in it."
This directly shows up in the amount of charity given during the holy month, estimated by the Muslim Charities Forum at more than £130 million ($160 million).
Same as Hamdy, Amr Zaki, a Londoner who is currently in Egypt, believes life can be difficult for Muslims living in the UK.
"People in Egypt are very friendly and will support one another. Family and neighbors will always be there to help if they can," he told The National.
"Being alone abroad, with no family around, makes it harder to find that support and the benefits will never be sufficient.
"Life is very tough when you are abroad and I believe these people need help more than those surrounded by their families."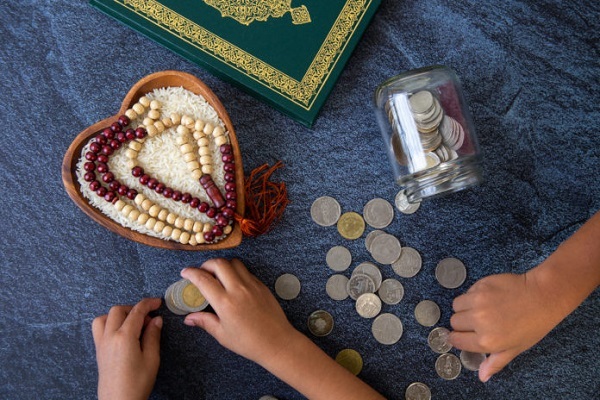 Helping Homeland
Seeing increasing financial problems in their home countries, other British Muslims prefer to send their zakat there.
Sarah Rafie, a London accountant, said she sends money to her family to find those who need help.
"I opened a bank account specifically for this reason. Throughout the year, I add money to the account. I sent the debit card to my mum back home and she can withdraw the money whenever she finds someone who needs help," she said.
"We send it to the very poor. Families who are struggling to feed their children and those who can't afford formula milk for infants with lactose intolerance.
"Medicine has also become very expensive back home, so I try to help anyone who needs it but can't afford it."
Mona Badr, a banker from Newcastle upon Tyne, said that she also prefers to send the money back hometo Egypt and avoids giving her zakat to well-known charities.
"They are usually where people tend to send their money and I wanted to find others who are harder to reach," she said.
"I send the money to my family, they will find those who really need it and sometimes I send them to hospitals to cover bills for those who can't afford to pay them."
Ramadan, the holiest month in the Islamic calendar, is a month of giving as well as fasting.
Generosity and charity are generally blessed in Islamic Shari`ah, however, it's specially blessed during the month of Ramadan.
Multiplies rewards, for one thing, Ramadan is a blessed month where the rewards for all of our good deeds are multiplied.
Read Original Report Here By About Islam