'Why do you sound so British?" the immigration officer asked 15-year-old Ijeoma Moore as she followed orders to pack for herself and her 10-year-old brother. Officers had arrived at their London home that morning in 2010, as they were eating breakfast and getting ready to leave for school. "Because I am British," the teenager replied.
What else could she be? She had lived in the UK since she was two years old. She loved tea and toast and "stupid telly". But her mother's repeated residency applications to the Home Office had all been rejected. Moore was not a British citizen.
Still in school uniform, the children and their visiting father – her mother was not there that day – were put in the Home Office van. Moore felt like she was watching someone else's life on TV. They were taken to an immigration detention centre, where she narrowly avoided deportation three times. Eventually she and her brother were placed in foster care and her father sent to Nigeria. "I had to grow up really quick and become like a mum to my brother," Moore says.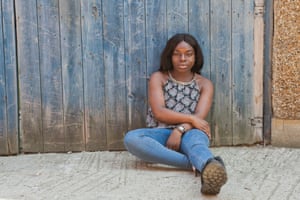 A decade on, Moore is still not a UK citizen. She will not officially become British until she turns 33 – 31 years after she arrived in the country and picked up a London accent. And it is not guaranteed if she runs out of money to pay the soaring fees, or the Home Office loses a document from the required stack of evidence, or if the rules change yet again.