(Image credit: Marvel Studios 2022)
By Mohammad Zaheer 8th June 2022
As the new Disney+ series Ms Marvel launches, Mohammad Zaheer looks at how its reimagining of a pioneering comic book character is set to be a hit.
Ms Marvel comes to our screens via Disney+ today with lofty fan expectations, following other critically acclaimed Marvel shows such as Wandavision and Loki. The online buzz around the series and glowing reviews from critics ahead of its release point to Disney having another hit on their hands. However, success for this hero wasn't always guaranteed.
More
– The 12 best films of 2022 so far
– The science behind the 'multiverse'
– The bizarre plot that tricked Hitler
In 2013, when Marvel announced that they were reimagining the comic book character of Ms Marvel – originally a blonde superpowered military hero – as a Muslim Pakistani-US teenager called Kamala Khan, it was considered a controversial and risky proposition. Comic books, for the most part, have traditionally been male-dominated and white-centric – something Kamala was the antithesis of. Other attempts to diversify characters, such as creating a biracial Spiderman, had attracted backlash from some very vocal quarters of the fandom. In 2017, Marvel's vice president of sales stated that feedback from retailers indicated that readers were being alienated by the push for diversity. "What we heard was that people didn't want any more diversity," he said. "They didn't want female characters out there. That's what we heard, whether we believe that or not."
Story continues below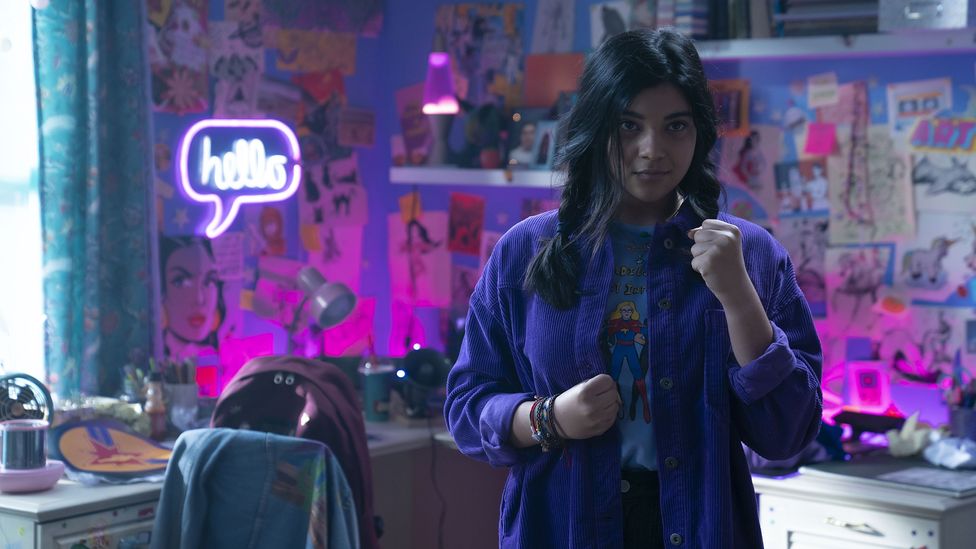 Pakistani-Canadian actress Iman Vellani plays Ms Marvel as a young girl facing typical teenage tribulations (Credit: Marvel Studios 2022)
Yet the performance of the Ms Marvel comic books demonstrated otherwise. "Ms Marvel almost immediately became a hit comic and one of the biggest sellers online," says Dr Mel Gibson, an associate professor at Northumbria University and a comics scholar. "It absolutely leapt in sales to what could be considered non-traditional comic book readers – such as females, Muslims, or Pakistani Americans for example. The idea of who reads comics and how they read them was changing. It helped draw in new folk and diversify the fan base."
By mid 2018, even without a live-action TV show or movie, Ms Marvel had sold more than half a million trade paperbacks. Kamala Khan's arrival into the Marvel Cinematic Universe is not just some PR exercise: the popularity of the character demanded it. "A huge reason Ms Marvel has struck the chord it has is because it deals with the role of traditionalist faith in the context of social justice, and there was – apparently – an untapped audience of people from a wide variety of faith backgrounds who were eager for a story like this," wrote G Willow Wilson, the writer who helped craft Kamala Khan, in 2017.
To have a Muslim character that isn't always carrying the weight of the political environment is so refreshing. A fun, positive and adventure-seeking character is what Muslims want to see, and so do general audiences – Sue Obeidi
Kamala's faith certainly does differentiate her from the overwhelming majority of her comic book counterparts. The depiction of Muslim characters in comic books has often been problematic, but there was an especially tricky path to tread in a post-9/11 world. It is a testament to the team behind Ms Marvel how deftly they navigated it. Wilson weaved together storylines and interactions in a thoughtful and nuanced manner that prevented characters from turning into stereotypes. Her familiarity with the religion is understandable – she is Muslim, after all – but some of the specific details that went into her writing made me often wonder if she was secretly Pakistani as well.
"I just thought it was so interesting because I can see how different Kamala was from other personifications of Muslim or Arab characters in previous comics – notably other characters like Dust who were exoticised and where there is a whole element of orientalism going on," says Dr Gibson.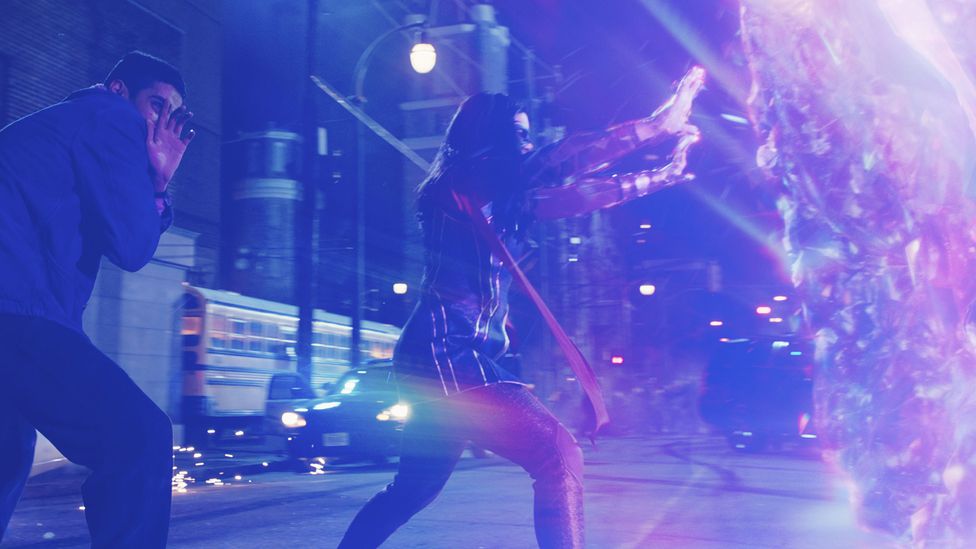 Ms Marvel's powers have been changed for the TV series, to ease the character's transition into the MCU (Credit: Marvel Studios 2022)
According to Sue Obeidi, director of the Hollywood Bureau for the US Muslim Public Affairs Council (MPAC), the importance of Ms Marvel being a strong, authentic female Muslim character cannot be overstated. "Islam has no shortage of heroic Muslim women in its history. When you look at Aisha [bint Abu Bakr] or Khadija [bint Khuwaylid] – they were one of Islam's first heroes. They were powerful, brave and independent women with their own agency. If this character embodies some of the great attributes that many Muslim women are renowned for, you can't go wrong because that means that the character will also represent the faith well."
Teen dramas
While the comics never shy away from her religion or culture, these aspects don't define Kamala's whole identity. She is your everyday, regular teenager – who happens to be Muslim, who happens to be Pakistani American, and who happens to be a superhero. She deals with school bullies and inappropriate crushes. She has her own hopes, dreams and passions; her own adversities, insecurities, and obstacles to overcome – things many of us can relate with.
"Just like Kamala, I was a fan of Carol Danvers [aka the original Ms Marvel]," says Dr Gibson. "When I heard the comic books were coming out, I wanted to see what they'd done. I'd been a young teenager when Carol Danvers first appeared as Ms Marvel, so I knew what she meant to me. The instant I found out Kamala was a fan, I thought we're in the same world. That enabled me to get to the relatability of the character almost immediately. When we first meet her, she is writing fan fiction. She says things that her mom is like: 'What are you even talking about?' It was geekdom. I thought it was great. And that drew me to buy the comic books." "To have a Muslim character that isn't always carrying the weight of the political environment is so refreshing," says Obeidi. "A fun, positive and adventure-seeking character is what Muslims want to see and so do general audiences."
The Pakistani heritage of Kamala Khan is also an important facet. South Asian representation in the West has often been dominated by India, and while there are many shared customs and traits, Pakistan also has its own distinct culture. That is why there was an uproar when rumours abounded that Bollywood actress and former Miss World Priyanka Chopra, who is Indian, was considered an early front runner to land the role. Many felt that one of the very few prominent Pakistani characters should be played by a Pakistani actor.
Similarly, when the first clip from the show was released, showing Kamala's dad exclaiming "Chak de phatte" – a Punjabi war cry – while cosplaying as the Hulk, it got an extremely negative reaction from a large segment of Pakistani social media users who complained that it was lingo more common in India than Pakistan. The accents of the actors were also criticised as being Indian instead of Pakistani. To put the scorn into context, it would be akin to complaints about British actors, portraying American characters, speaking in British accents and using an expression such as "Blimey!". Personally, however, I didn't find the accents egregiously different from many uncles and aunties I know that immigrated to America from Karachi.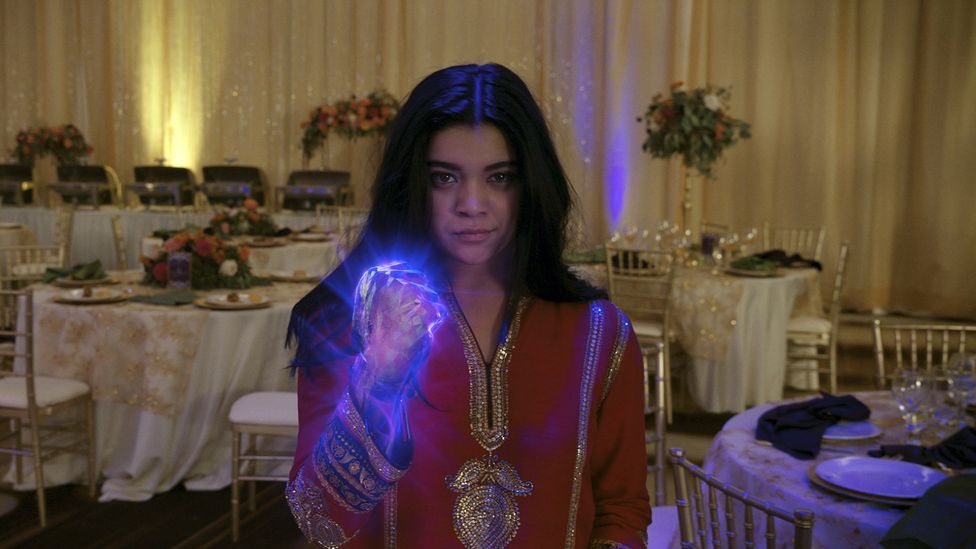 The Ms Marvel series 'feels like a celebration of diaspora communities' (Credit: Marvel Studios 2022)
Luckily, Disney struck gold with the casting of Pakistani-Canadian actress Iman Vellani as Ms Marvel. She seems to perfectly embody all the elements that made Kamala Khan such a lovable character in the comic books. She is an adorable bundle of charisma every time she is on the screen. Much like Robert Downey Jr as Iron Man or Emma Watson as Hermione Grainger, it's not hyperbolic to say she it seems like this role was tailor-made for her.
While the series does feature some of the cliches of coming-of-age stories, the Pakistani-US background of the main character helps set it apart. But that comes with its own challenges. The show seems to walk a tight rope between pronounced representation and stereotyping and doesn't always get the balance right. The amount of time the word haram gets bandied about becomes almost comical, verging on becoming parody. While exploring important themes such as finding one's own voice and identity at the risk of clashing with familial expectations, the show approaches them in a heavy-handed manner –  lacking the deft touch of the comics.
But the show also made me relate to it in a way I have with very few series, and that has a lot to do with the characters. Ms Marvel feels like a celebration of diaspora communities. Like Kamala, I grew up straddling different cultures, often at odds with one another and with my parents' vision of who I should be. I knew a Bruno, the white friend happily immersed himself in Islamic culture because of his social circle, while other characters who felt very familiar to me include Nakia, the hijab-wearing girl you know is going to change the world, even as, behind her back, people question why a strong intelligent woman like her would choose to cover her hair. And Kamran, the boy in school who was effortlessly cool but annoyingly likeable in spite of that. Never, too, would I have thought that the scourge of many a mosque goer – the shoe thief – would be mentioned in the Marvel Cinematic Universe.
In fact, there's a lot about the show that stands out positively. It is aesthetically vibrant and seamlessly incorporates comic book-inspired animations with live action. The main group of actors portraying Kamala's school friends have great chemistry together. The series also has a fantastic soundtrack. It was just as surreal to hear the 1966 Pakistani pop classic Ko Ko Korina playing on a Marvel show as it was the contemporary hit Peechay Hutt.
There was apprehension amongst fans of the comic books about the changes the show would make to Kamala's powers and backstory. In the comics, Kamala activates her polymorphic abilities, allowing her to change her size and shape, after being exposed to a cloud of Terrigen Mist. In the series, she seems to activate the power to construct objects using energy through a mystical bracelet (similar to Green Lantern). According to the Marvel Studios President Kevin Feige, these changes were necessary for a smooth transition into the MCU. Whether fans warm to it remains to be seen, but I am optimistic they will.
The series has a chance to carry on the legacy of the comics on a bigger stage than ever before – not only showing Muslim children a superhero who shares their background and religious belief being a superhero, but inspiring audiences from all walks of life. As Sue Obeidi says, "I hope this character and this series is going to be a springboard for many more empowering stories of female Muslims and authentic Muslim representation."
Episode 1 of Ms Marvel is out on Disney+ today, with further episodes released weekly
source https://www.bbc.com/culture/article/20220607-why-marvel-has-struck-gold-with-muslim-superhero-ms-marvel