It has been billed as the world's worst Zoom meeting, but the United Nation's 75th general assembly could be even worse than that.
It is called the "general debate" but, unlike a Zoom meeting, there will be no discussion – just a week-long procession of pre-recorded video messages from the world's leaders, stating their positions, very much with their domestic audience in mind. They were supposed to have sent their videos at the end of last week. As of Monday, only half had been turned in.
The UN secretary-general, António Guterres, is hoping to use the organisation's 75th anniversary as an opportunity for member states to recommit to its founding principles, but the UN and multilateralism itself has never seemed so beleaguered.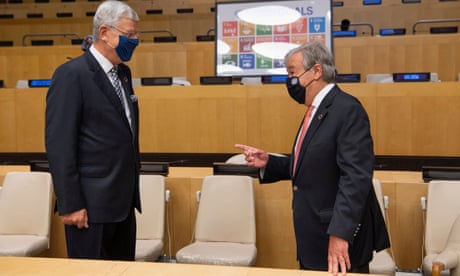 Bye bye bilaterals: UN general assembly to embrace Zoom diplomacy
"The problem is that much of the world is questioning whether the UN is still relevant at 75," said Sherine Tadros, the head of the UN office of Amnesty International. "To use a Covid analogy, it's a matter of whether it's got too many underlying pre-existing conditions to make it through this next period."
On Tuesday morning, Jair Bolsonaro's presentation will be followed by Donald Trump, then Recep Tayyip Erdoğan and Xi Jinping. Vladimir Putin's turn comes about half an hour later. The "high-level week" will begin with a parade of the world's self-styled strongmen.
According to the latest running order, 50 men will address the assembly before the first woman gets a chance to speak, Slovakia's Zuzana Čaputová.
The speeches will be introduced by each country's representative from their seat in the vast general assembly chamber and then the leader's lecture will be displayed on giant screens set up behind the famous green marble podium where the speeches were delivered on the previous 74 general assemblies, in pre-Covid times. The speakers are allowed to use video graphics and some have availed themselves of the opportunity, according to UN diplomats.