'A friend says his Insta is full of boobs and bums – I'm a breath of fresh air': Rev Chris Lee, 37, Church of England priest, London
In 2015, my friends invited me to do a slot called Rev Chris Reacts on their YouTube channels. I appeared in my dog-collar, reviewing food, culture and music; one video of me watching Ariana Grande's God Is A Woman has now racked up over 8m views.
It hit me that I had an opportunity to inject some light and love into the internet. I joined Instagram five years ago, and my following has doubled over the past year. I have 168,000 followers – more than the Church of England and the archbishop of Canterbury combined.
I'm the vicar at St Saviour's Church, in Wendell Park, London. When I meet people, I try not to tell them what I do straight away, because it immediately shifts the mood. Sometimes they open up, sometimes they defend themselves, sometimes they suddenly just don't like me.
On Instagram I share all the things I love – sport, my family, God – but I don't do "cut-and-paste church": you won't find long sermons from me. I'm married with two daughters, and have an identical twin, who is an army major. Last summer, I shared pictures of us cliff-jumping together in Dubrovnik and on a military trip to Korea.
I get 50-100 DMs a day, scaling from, "Hey, you're amazing" to pleas for help. Often those conversations inspire me to share some thoughts on difficult topics. Some Sundays, I post 60-second summaries of sermons on my way to church; they're being published in a book this autumn called The OMG Effect.
My route into Christianity was not straightforward. At 21, I left my job in mortgages and property, and travelled to Tanzania, where I lived in a mission in the Maasai steppe. At 24, I was ordained as a deacon in the diocese of Mount Kilimanjaro. I returned to theological school in the UK, and have been at my current church for four years.
The pandemic has forced the Church of England to embrace the technological revolution. Before, we were like fishermen with poor nets, trying to catch any online interest; now a huge amount of effort has gone into tending the nets. Being locked out of our own churches has been especially hard. I started doing Instagram live services, and often got 5,000 people watching over a day, including atheists.
I've had women send me naughty pictures. I generally scream, "Oh my God!" and ask my wife Jenny (@mamajennylee) to deal with them.
I try to share messages that build up hope and love; that make people feel heard. A friend says his Insta is full of boobs and bums, and then I pop up and it's a breath of fresh air.
Instagram: @revchris7
'There are trolls, mostly men, who tell me I'm not a real priest': Rev Jennie Högberg, 38, Church of Sweden priest, Stockholm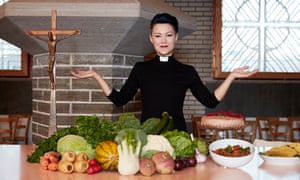 My Instagram name translates as the Vegan Priest. I joined in 2012, and when I became vegan four years ago, started sharing foodie pictures. Some of the dishes, like the cakes I made, were popular and I started to narrow the focus to reflect the areas I am most passionate about: veganism, animal theology and climate change.
I came to Christianity in my 20s and was ordained in 2018, after studying for 12 years. Before I became a priest, I worked as a massage therapist and taught modern dance and ballet. I'm a baritone saxophone player, too; it's important to me that people recognise that clergy are as multidimensional as anyone else.